Page last updated
Thu 05 Dec 2019
The Freshwater Mussels (Unionoida) of the World (and other less consequential bivalves)
FM(U)otW(aolcb) is the web version of the MUSSEL Project Database. Follow the links to browse the data or use the custom Google search field. Either way, you win!
This page lists the nominal species (available and otherwise) currently circumscribed under the valid name.
Search the database pages:
---
Bivalvia | Unionoida | Unionoidea | Unionidae | Ambleminae | Popenaiadini | Nephronaias
species Nephronaias ravistella (Morelet, 1849): synonymy
57 specimens available.
Unio ravistellus Morelet, 1849

Morelet, 1849, Test. Nov. 1: 29.
Type(s): HOLOTYPE BMNH_93-2-4-2021, Lake d'Yzabal, Guatemala.
Unio raristillus Lea, 1852
'Morelet' Lea, 1852, Synopsis Fam. Naiades: 40.
(error for Unio ravistellus Morelet, 1849)
Unio vellicatus Reeve, 1865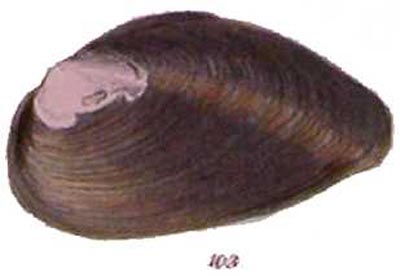 Reeve, 1865, Conch. Icon. 16: pl. 22, sp. 103.
Unio (Elliptio) ravistellus var. majusculus Martens, 1900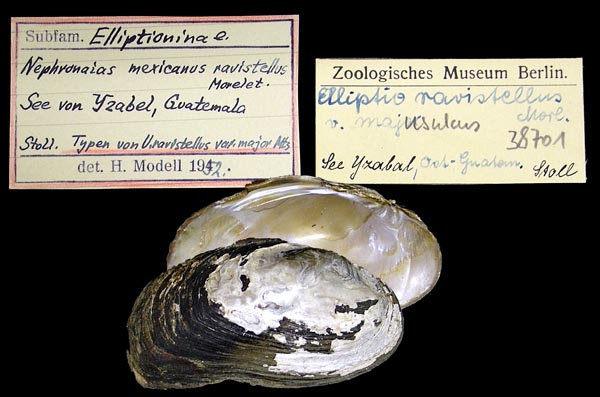 Martens, 1900, Biol. Centr.-Amer., Moll.: 516.
(intro'd as intra-sp. of Unio ravistellus Morelet, 1849)
Type(s): TYPE ZMB_38701, See Yzabal, Guatemala.
Page updated: 15:16:15 Thu 05 Dec 2019