The November 2003 Mussel of the Month is Elliptio dilatata. Elliptio dilatata is a widespread species of eastern North America.
[Since November 2003 when we selected this species as Mussel of the Month, E. dilatata has been transferred to the genus Eurynia. As the type of that genus, this species is now known as Eurynia dilatata. — DLG]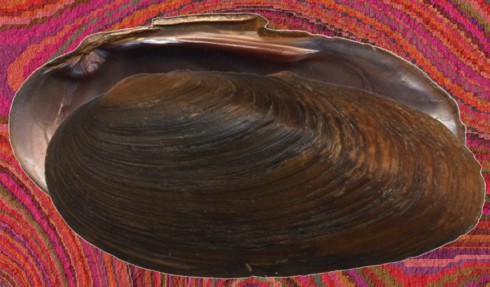 UMMZ 205584. Kalamazoo River, Jackson Co., Michigan, USA.
The genus Elliptio ranges widely across temperate eastern North America. While the center of diversity for this genus is the Atlantic Slope region of the United States, E. dilatata is one of the few species of Elliptio found in the Mississippi Interior Basin and the Great Lakes. It has been reported from the Red River of the North (Hudson Bay Drainage), but those records are likely based upon misidentified Ligumia recta. That species is also elongate with purplish nacre.
Classification:
Phylum Mollusca
Class Bivalvia
Subclass Palaeoheterodonta
Order Unionoida
Superfamily Unionoidea Rafinesque, 1820
Family Unionidae s.s.
Subfamily Ambleminae Rafinesque, 1820
Tribe Pleurobemini Hannibal, 1912
Genus Elliptio Rafinesque, 1819
Species Elliptio dilatata (Rafinesque, 1820)