Page last updated
2 February 2023
Mussel of the Month
The 2023 Mussels of the Month, so far...
February 2023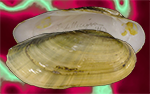 Lampsilis teres (Unionidae, North America)
The February 2023 Mussel of the Month is Lampsilis teres. Lampsilis, as currently recognized, is a genus of 26 Recent species, endemic to eastern North America.
January 2023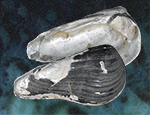 Pseudocuneopsis capitatus (Unionidae, East Asia)
The January 2023 Mussel of the Month is Pseudocuneopsis capitatus. Pseudocuneopsis is a genus of two species endemic to the Yangtze Basin in China.