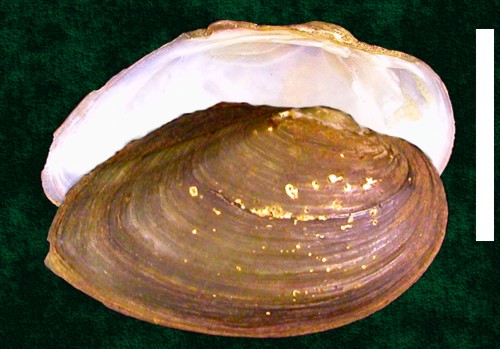 ANSP 27341. Philadelphia, Pennsylvania.
[The white scale bar is 2 cm.]
Alasmidonta heterdon (known to those concerned with common names as the dwarf wedgemussel) was once know from at least 70 localities along the eastern coast of North America, from Canada to North Carolina. According to the Recovery Plan (Moser, 1993), it is now limited a few localities in only eight river drainages. There are no longer extant populations in Philadelphia, the locality from which the above figured specimen came.
Classification:
Phylum Mollusca
Class Bivalvia
Subclass Palaeoheterodonta
Order Unionoida
Superfamily Unionoidea Rafinesque, 1820
Family Unionidae s.s.
Subfamily Unioninae s.s.
Tribe Anodontini Rafinesque, 1820
Subtribe Alasmidontina Swainson, 1840
Genus Alasmidonta Say, 1818
Species Alasmidonta heterodon (Lea, 1829)