Page last updated
29 July 2004
Mussel of the Month
The August 2004 Mussel of the Month is Castaliella sulcata. Castaliella is part of the diverse assemblage of South American freshwater mussels, known from Surinam and Guyana.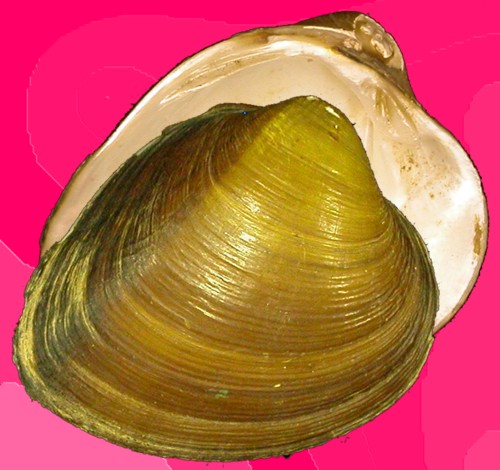 AMS C.1736. British Guiana.
The recent consensus has been that there are three families of freshwater mussels in South America: Etheriidae, Mycetopodidae and Hyriidae; Castaliella sulcata belongs to the last of these. Most of the genera believed to be closely related to Castaliella can be recognized by their conspicuous "radial" scultpure on the shell and serrated lateral hinge teeth. C. sulcata is interesting among these species because it seems to lack both of these traits — as is evident from our picture, the shell and lateral teeth are both smooth.
The freshwater mussels of South America are poorly known, and one of the goals of the MUSSELp is to revise the Neotropical genera and species from a global, cladistic perspective. The most recent treatment of these taxa is that of Haas (1969), which differs somewhat from the earlier work of Simpson (1900, 1914).
Classification:
Phylum Mollusca
Class Bivalvia
Subclass Palaeoheterodonta
Order Unionoida
Superfamily Etherioidea Deshayes, 1830
Family Hyriidae Swainson, 1840
Subfamily Hyriinae s.s.
Tribe Castaliini Lange de Morretes, 1949
Genus Castaliella Simpson, 1900
Species Castaliella sulcata (Krauss, 1849)
References Cited:
Simpson, C.T. 1900. Synopsis of the naiades, or pearly fresh-water mussels. Proceedings of the United States National Museum 22(1205): 501-1044.
Simpson, C.T. 1914. A descriptive catalogue of the naiades, or pearly fresh-water mussels. Parts I-III. Bryant Walker, Detroit, Michigan. 1540 pp.
Haas, F. 1969. Superfamilia Unionacea. Das Tierreich (Berlin) 88: 663 pp.