Page last updated
1 June 2005
Mussel of the Month
The June 2005 Mussel of the Month is Cristaria plicata. Cristaria is an Asian genus used in China to culture freshwater pearls.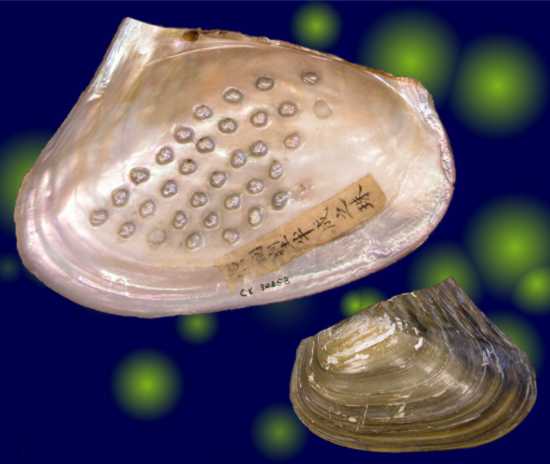 AMNH 30253. Shanghai, China. John C. Jay Collection.
Cristaria plicata is an anodontine mussel — like Pyganodon or Alasmidonta — found throughout eastern Asia, including China, Japan and Indochina. Like its North American counterparts, Cristaria has reduced hinge teeth and a subtriangular, hooked glochidium. Specimens are often very large, sometimes over a foot long!
Cristaria, along with other freshwater mussel genera, is often used in the cultured pearl industry. For more information on freshwater cultured pearls, follow the links below.
Classification:
Phylum Mollusca
Class Bivalvia
Subclass Palaeoheterodonta
Order Unionoida
Superfamily Unionoidea Rafinesque, 1820
Family Unionidae s.s.
Subfamily Unioninae s.s.
Tribe Anodontini Rafinesque, 1820

Genus Cristaria Schumacher, 1817
Species Cristaria plicata (Leach, 1815)
For more information about freshwater pearls, check out the following:
American Museum of Natural History Pearls Exhibit. — Web site designed to accompany the widely traveled museum exhibition developed by the AMNH and the Field Museum of Natural History.
Nova Website: Cultured Freshwater Pearls. — by Fred Ward.