Page last updated
3 July 2005
Mussel of the Month
The July 2005 Mussel of the Month is Leguminaia compressa. Leguminaia is endemic to Mediterranean Europe and the Middle East.
[At the time we used this species as Mussel of the Month, we considered Leguminaia to be synonymous with Microcondylaea. As of February 2007, we have updated our taxonomy, and we would now treat this species as Microcondylaea compressa. — DLG]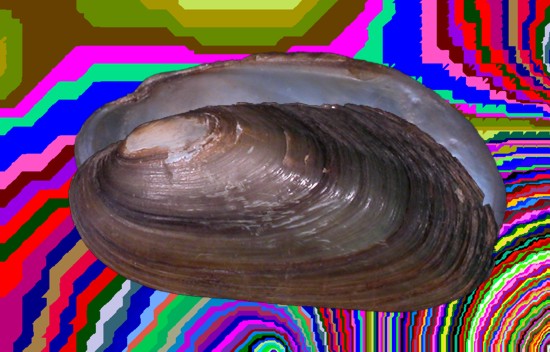 ANSP 125636. Lake Garda, Italy.
Leguminaia is a genus of unknown affinities. Modell and Starobogatov both placed it among the Margaritiferidae. Other authorities, however, have treated it as unionid. We don't have much to say about it.
Classification:
Phylum Mollusca
Class Bivalvia
Subclass Palaeoheterodonta
Order Unionoida
Superfamily Unionoidea Rafinesque, 1820
Family Unionidae s.s.
Subfamily Incertae Sedis
Genus Leguminaia Conrad, 1865
[+ Microcondylaea Vest, 1866, + Pseudodontopsis Kobelt, 1913]
Species Leguminaia compressa (Menke, 1830)
[= uniopsis Lamarck, 1819 ?]
For more information about Leguminaia, check out:
Bába, K. 2000. An area-analytical zoogeographical classification of Palearctic Unionaceae species. Bolletino Malacologico, Roma 36(5-8):133-140.
Haas, F. 1969. Superfamilia Unionacea. Das Tierreich (Berlin) 88: 663 pp.