Page last updated
31 August 2022
Mussel of the Month
The September 2005 Mussel of the Month is Parreysia corrugata. Parreysia is a diverse genus found predominantly in India, but also throughout southeastern Asia.
[This specimen is now identified as Parreysia plagiostoma — DLG, 31 August 2022.]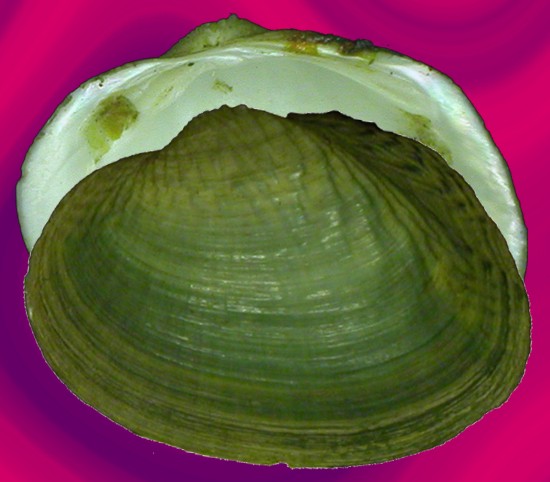 BMNH 1907.12.80.56. British Burma. Benson Collection.
(type of U. tennentii Hanley & Theobald, 1876)
Parryesia is a diverse genus (nearly 40 recognized species), although it will probably be subdivided somewhat once it is revised. Early in the twentieth century, the genus Parreysia was used for sculptured taxa in Africa as well as India and Indochina. Those African forms are now considered to belong in Coelatura (and related genera), and Parreysia, as presently conceived, is regarded as strictly Oriental. However, little is known of its phylogenetic relationships beyond its placement in the Unionidae.
P. corrugata is the type species of the genus.
Classification:
Phylum Mollusca
Class Bivalvia
Subclass Palaeoheterodonta
Order Unionoida
Superfamily Unionoidea Rafinesque, 1820
Family Unionidae s.s.
Genus Parreysia Conrad, 1853
Species Parreysia corrugata (Müller, 1774)
For more information about Parreysia, check out the following:
Subba Rao, N.V. 1989. Handbook freshwater molluscs of India. Zoological Survey of India, Calcutta. 289 pp.