Page last updated
1 December 2005
Mussel of the Month
The December 2005 Mussel of the Month is Pseudomulleria dalyi. Ps. dalyi is a Gondwanan species found in India and one of only a handful of cementing freshwater mussels.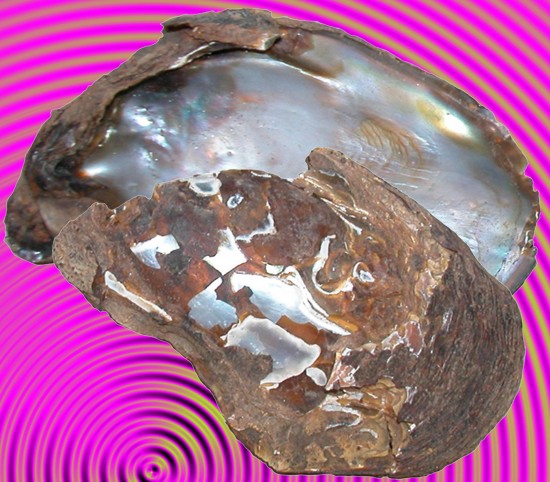 UMMZ 112658. Bundra River, Mysore, India. ex Bryant Walker Coll'n.
Pseudomulleria is one of three (or four, depending upon the authority) monotypic genera that comprise the Etheriidae. Etheria is widespread in Africa and Madagascar, Acostaea is found in Colombia and Pseudomulleria has a restricted distribution in India. The disjunct distribution of the members of the Etheriidae suggests that the family pre-dates the Mesozoic break up of Gondwana, the southern super-continent.
Recent molecular phylogenetic work by Bogan & Hoeh has suggested that Pseudomulleria may actually belong to the family Unionidae. That conclusion is especially interesting since, as far as is known, Pseudomulleria is morphologically quite similar to Acostaea, which Bogan & Hoeh maintain as an etheriid. The evidence for and against this proposed revisioin was discussed by Graf & Cummings.
Classification:
Phylum Mollusca
Class Bivalvia
Subclass Palaeoheterodonta
Order Unionoida
Superfamily Etherioidea Deshayes, 1830
Family Etheriidae s.s.
Genus Pseudomulleria Anthony, 1907
Species Pseudomulleria dalyi (E.A. Smith, 1898)
For more information on the phylogenetic position of Pseudomulleria check out the following:
Bogan, A.E. & W.R. Hoeh. 2000. On becoming cemented: evolutionary relationships among the genera in the freshwater bivalve family Etheriidae (Bivalvia: Unionoida). In: Harper EM, Taylor JD, Crame JA, eds. The Evolutionary Biology of the Bivalvia. Geological Society, London, Special Publications 177: 159-168.
Graf, D.L. & K.S. Cummings. (accepted). Palaeoheterodont Diversity (Mollusca: Trigonioida + Unionoida): what we know and what we wish we knew about freshwater mussel evolution. Zoological Journal of the Linnean Society.