Page last updated
30 December 2005
Mussel of the Month
The January 2006 Mussel of the Month is Discomya radulosa. Discomya is a genus of one or two species endemic to the island of Borneo.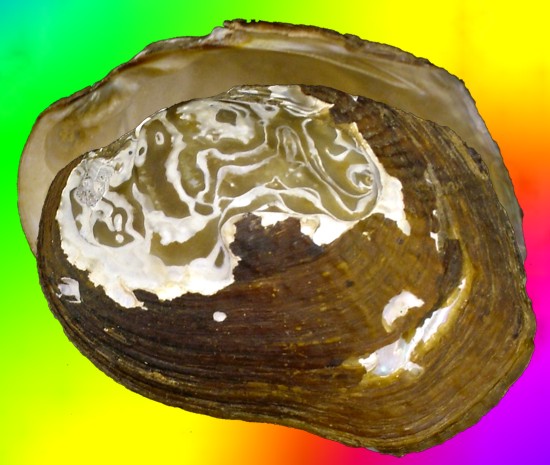 USNM 126742a. Selrocany, Borneo. ex Chamberlain.
(type of Quadrula (Discomya) radulosa var. rhomboidea Simpson, 1900)
Discomya is one of the eleven freshwater mussel genera reported to occur on the island of Borneo in the east Indies. The unionoid diversity known (at least historically) from Borneo is suprisingly high, with about 19 species currently recognized. Little else can be said at this time about Discomya.
Classification:
Phylum Mollusca
Class Bivalvia
Subclass Palaeoheterodonta
Order Unionoida
Superfamily Unionoidea Rafinesque, 1820
Family Unionidae s.s.
Genus Discomya Simpson, 1900
Species Discomya radulosa (Drouët & Chaper, 1892)
(+ Q. (Discomya) radulosa var. rhomboidea Simpson, 1900)
For more information on Discomya, including a description of the shells in two different languages, check out:
Haas, F. 1969. Superfamilia Unionacea. Das Tierreich (Berlin) 88: 663 pp.
Haas, F. 1969. Superfamily Unionacea. pp. N:411-470. in R.C. Moore (ed.) Treatise on Invertebrate Paleontology. Geological Society of America and the University of Kansas. Part N, Vol. 1 (of 3), Mollusca.