Page last updated
24 February 2006
Mussel of the Month
The February 2006 Mussel of the Month is Potamilus alatus. Potamilus is one of the numerous genera endemic to the eastern portion of North America.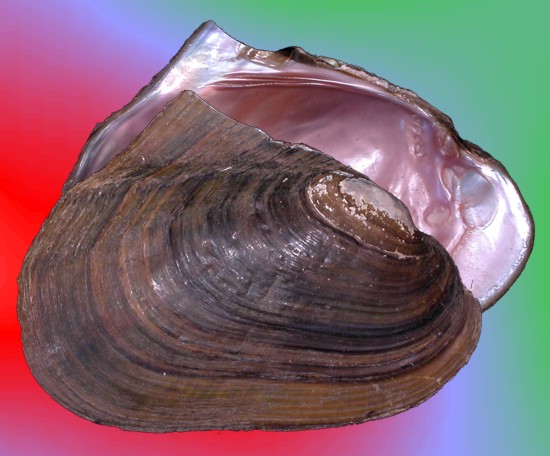 ANSP 358677. Powell River, McDowell Ford, Claiborne Co., Tennessee, USA.
17 July 1983, A. Bogan & P. Parmalee!
For most of the 20th century, "Potamilus" went by the name "Proptera", and in many collections the nine or so recognized species are still organized under the later name.
Potamilus is widespread in eastern North America, including the Interior Basin, the Great Lakes, portions of the eastern Gulf Coastal Plain, and extending south into Mexico. It is also one of the few species to have post-glacially invaded in the Nelson River (Hudson Bay) via the Red River of the North.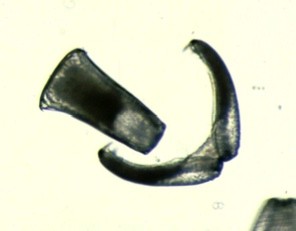 One of the diagnostic characteristics of the genus is its unique ax-head type glochidia. Such larvae are known only from Potamilus. Click the image (provided by Chris Barnhart, Missouri State University) to see electron micrographs.
Classification:
Phylum Mollusca
Class Bivalvia
Subclass Palaeoheterodonta
Order Unionoida
Superfamily Unionoidea Rafinesque, 1820

Family Unionidae s.s.
Subfamily Ambleminae Rafinesque, 1820
Tribe Lampsilini von Ihering, 1901

Genus Potamilus Rafinesque, 1818
(+ Proptera Rafinesque, 1819)

Species Potamilus alatus (Say, 1817)
For more information on Potamilus, check out:
Cummings, K.S. & C.A. Mayer. 1993. Distribution and host species of the federally endangered freshwater mussel, Potamilus capax (Green, 1832) in the Lower Wabash River, Illinois and Indiana. Illinois Natural History Survey, Center for Biodiversity, Technical Report 1993(1): 1-29.
Roe, K.J., A.M. Simons & P. Hartfield. 1997. Identification of a fish host of the inflated heelsplitter Potamilus inflatus (Bivalvia: Unionidae) with a description of its glochidium. American Midland Naturalist 138: 48-54.
Roe, K.J. & C. Lydeard. 1998. Molecular systematics of the freshwater mussel genus Potamilus (Bivalvia: Unionidae). Malacologia 39: 195-205.