Page last updated
30 March 2006
Mussel of the Month
The April 2006 Mussel of the Month is Nyassunio nyassaensis. Nyassunio is occurs in both Lake Malawi (= Lake Nyassa) and Lake Tanganyika.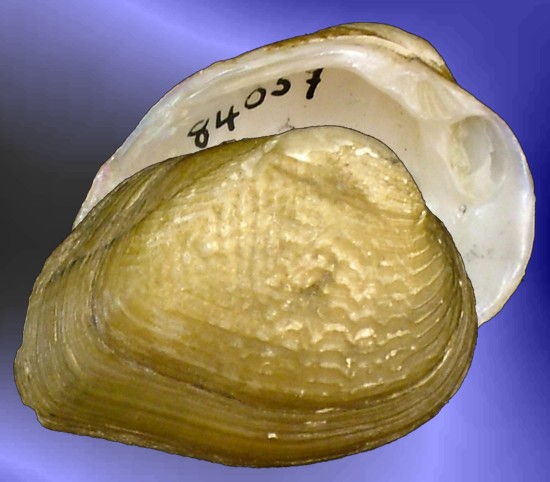 USNM 84057. Lake Nyassa, Africa (type of U. nyassaensis Lea, 1864).
Nyassunio is a small genus of only two species, one each in lakes Malawi and Tanganyika. N. nyssaensis, from Lake Malawi (also known as Lake Nyassa), has the interesting distinction that it was first collected by the Livingstone Expedition to the Lower Zambezi River from 1858-1864. Specifically, the type was discovered in September or October 1861 by Dr. David Kirk, the expedition's botanist. While the other mollusks collected on that trip ended up with British natural historians, the freshwater mussels found their way to Isaac Lea at the Academy of Natural Sciences. Dr. Lea was a world renowned expert of freshwater mussels, and as a result specimens were sent to him from all corners of the globe. This deluge of shells facilitated his hobby of naming new species.
Classification:
Phylum Mollusca
Class Bivalvia
Subclass Palaeoheterodonta
Order Unionoida
Superfamily Unionoidea Rafinesque, 1820

Family Unionidae s.s.

Genus Nyassunio Haas, 1936

Species Nyassunio nyassaensis (Lea, 1864)
For more information on Nyassunio nyassaensis and its place in the history of African exploration, check out:
Daget, J. 1998. Catalogue raisonné des Mollusques bivalves d'eau douce africans. Backhuys Publishers, The Netherlands. 329 pp.
Scholz, H. 2003. Taxonomy, ecology, ecomorphology, and morphodynamics of the Unionoidea (Bivalvia) of Lake Malawi (East-Africa). Beringeria 33: 3-86.
Dritsas, L. 2005. From Lake Nyassa to Philadelphia: a geography of the Zambesi Expedition, 1858-64. British Journal for the History of Science 38: 32-52.