Page last updated
31 May 2006
Mussel of the Month
The June 2006 Mussel of the Month is Brazzaea anceyi. Brazzaea is a monotypic genus endemic to Lake Tanganyika.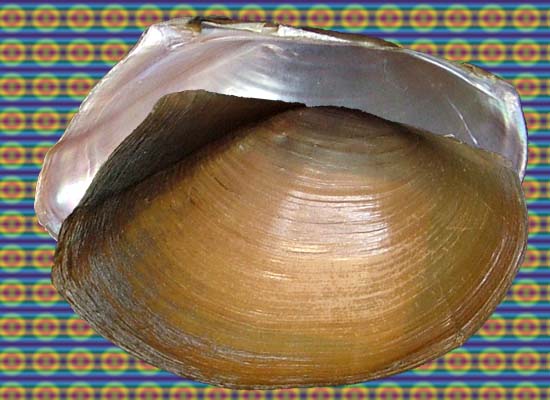 Kibanga, Tanganyika (type of B. anceyi in the MNHN)
In honor of our recent visit to the Muséum National d'Histoire Naturelle in Paris, we have chosen Brazzaea anceyi as the mussel of the month — eventually described no fewer than 13 times by Bourguignat! Besides being the object of so much super-nomination, Brazzaea has also been somewhat of a taxonomic enigma. While some authors (e.g., Haas, 1969) have treated it as an iridinid because of its edentulous hinge, Pain & Woodward (1968) showed that its anatomy was clearly unionid.
Classification:
Phylum Mollusca
Class Bivalvia
Subclass Palaeoheterodonta
Order Unionoida
Superfamily Unionoidea Rafinesque, 1820

Family Unionidae s.s.
Subfamily Brazzaeainae Leloup, 1950

Genus Brazzaea Bourguignat, 1885

Species Brazzaea anceyi Bourguignat, 1885
For more information on Hyriopsis, check out:
Pilsbry, H.A. & J. Bequaert. 1927. The Aquatic Mollusks of the Belgian Congo, with a geographical and ecological account of Congo malacology. Bulletin of the American Museum of Natural History 53: 69-602 + 68 plates.
Pain, T. & F.R. Woodward. 1968. A monograph of the African bivalves of the genera Brazzaea Bourguignat, Mweruella Haas, Prisodontopsis Tomlin and Pseudospatha Simpson. Revue de Zoologie et de Botanique Africaines 77(1-2): 190-220.
Haas, F. 1969. Superfamilia Unionacea. Das Tierreich (Berlin) 88: 663 pp.