Page last updated
6 September 2006
Mussel of the Month
The September 2006 Mussel of the Month is Leila blainvilliana. Leila is widespread in the Rio de La Plata and Amazon basins of South America.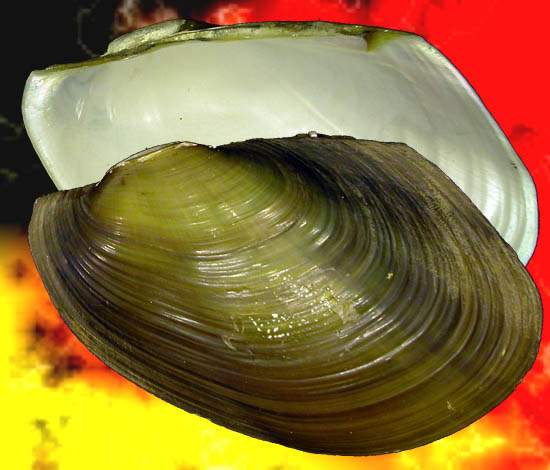 BMNH 1965205. Locality Unknown. H. Cuming Collection.
(Type of Anodon hians Sowerby)
A large South American bivalve, Leila blainvilliana is often confused with the widespread and common Anodontites trapesialis, to which it is externally similar. They can be easily separated if one has the shells in hand. A simple examination of the inside of the shell reveals the tell-tale pallial sinus associated with the "siphons," unique in the genus Leila. Don't worry if you have misidentified these in your collection — the holdings of some of the more illustrious institutions possess misidentified specimens, determined by "specialists" in their field.
Classification:
Phylum Mollusca
Class Bivalvia
Subclass Palaeoheterodonta
Order Unionoida
Superfamily Etherioidea Deshayes, 1830

Family Mycetopodidae Gray, 1840
Subfamily Leilinae Lange de Morretes, 1949

Genus Leila Gray, 1840

Species Leila blainvilliana (Lea, 1834)
For more information out Leila and their "siphons" check out:
Bonetto, A.A. 1963. Contributión al conocimiento de Leila blainvilleana (Lea) (Mollusca: Pelecypoda). Physis 24(67): 11-16.
Frierson, L.S. 1922. Observations on the genera Leila and Anodontites. Nautilus 36(1):7-10.
Veitenheimer, I.L. 1973. Contribuição ao estudo do gênero Leila Gray, 1840 - (Mycetopodidae - Bivalvia). Iheringia Série Zoologia 42:64-89.