Page last updated
27 November 2006
Mussel of the Month
The December 2006 Mussel of the Month is Velesunio ambiguus. The genus Velesunio is widespread in Australasia, from Tasmania to New Guinea.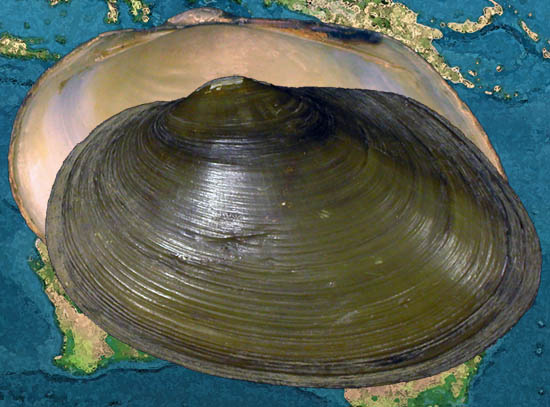 AMS 61699. Murray River, at Benthagi, New South Wales, Australia
(holotype of Velesunio testatus Iredale, 1943).
Velesunio, along with other Australian genera like Lortiella, represent the most basal radiation of the Hyriidae. Unlike the hyriids of South America (such as Castalia), Velesunio lacks the characteristic radial beak sculpture.
All phylogenetic analyses to-date have placed the Hyriidae at or near the base of the unionoid tree. These primitive hyriids provide us with a view of what the mussels of 200 million years ago might have looked like.
Classification:
Phylum Mollusca
Class Bivalvia
Subclass Palaeoheterodonta
Order Unionoida
Superfamily ETHERIOIDEA Deshayes, 1830
Family HYRIIDAE Swainson, 1840.
Subfamily VELESUNIONINAE Iredale, 1934

Genus Velesunio Iredale, 1934

Species Velesunio ambiguus (Philippi, 1847)
(+ Velesunio testatus Iredale, 1943)
For more information about Velesunio and evolution of the Hyriidae, check out:
McMichael, D.F. & I.D. Hiscock. 1958. A monograph of the freshwater mussels (Mollusca: Pelecypoda) of the Australian region. Australian Journal of Marine and Freshwater Research 9(3): 372-508 + 19 plates.
Graf, D.L. & K.S. Cummings. 2006. Palaeoheterodont Diversity (Trigonioida + Unionoida): what we know and what we wish we knew about freshwater mussel evolution. Zoological Journal of the Linnean Society, in press.