Page last updated
31 January 2007
Mussel of the Month
The February 2007 Mussel of the Month is Modellnaia siamensis. Modellnaia is an odd little monotypic genus of unionid endemic to the Mun River in Thailand.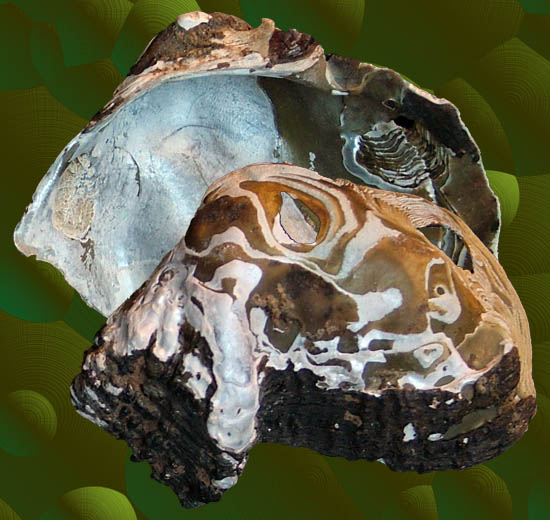 Mun River, ca. 6 km W Ban Tha Tum, Thailand (paratype of M. siamensis in MNHN).
Modellnaia siamensis is ad odd freshwater mussel. It behaves a bit like it belongs among the cementing Etheriidae, but, based upon its anatomy, Modellnaia belongs to the Unionidae. It has recently been argued that cementing and shell asymmetry has evolved multiple times among the Unionoida. Modellnaia is the only known example among the Unionoidea.
Classification:
Phylum Mollusca
Class Bivalvia
Subclass Palaeoheterodonta
Order Unionoida
Superfamily UNIONOIDEA Rafinesque, 1820
Family UNIONIDAE s.s.
Subfamily Modellnaiinae Brandt, 1974
Genus Modellnaia Brandt, 1974

Species Modellnaia siamensis (Brandt, 1974)
For more information about Modellnaia and other "cementing" freshwater mussels, check out:
Brandt, R.A.M. 1974. The non-marine aquatic Mollusca of Thailand. Archiv für Molluskenkunde 105: 423 pp.
Heard, W.H. & G.W. Hanning. 1978. Anatomical features of Modellnaia siamensis (Mollusca, Bivalvia, Unionidae). Zoologica Scripta 7: 219-223.
Bogan, A.E. & W.R. Hoeh. 2000. On becoming cemented: evolutionary relationships among the genera in the freshwater bivalve family Etheriidae (Bivalvia: Unionoida). pp. 159-168 [In] Harper, Taylor & Crame, eds. The Evolutionary Biology of the Bivalvia. Geological Society of London, Special Publications 177.