Page last updated
27 February 2007
Mussel of the Month
The March 2007 Mussel of the Month is Diplodon parallelopipedon. Diplodon is a relatively diverse genus in the family Hyriidae, found throughout South America east of the Andes.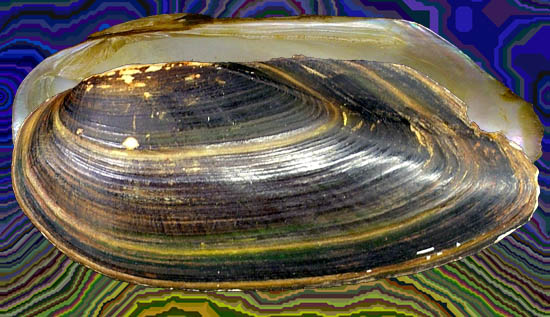 Rio Paraná, Corrientes, Argentina
(type of U. parallelopipedon in the USNM).
In the realm of rational discourse, there are few quagmires as deep as Diplodon. Both Parodiz (1968) and Haas (1969) tried to make sense of the species diversity, but there was very little agreement between their two systems. At least they agreed that their was a "Diplodon": Modell (1950) had taken some diplodons and arranged them with Castalia. More recently, Simone (2006) has advocated splitting the diplodons into two genera: Diplodon and Rhipidodonta. There is still a lot of work to do on the systematics of Neotropical freshwater mussels.
Classification:
Phylum Mollusca
Class Bivalvia
Subclass Palaeoheterodonta
Order Unionoida
Superfamily ETHERIOIDEA Deshayes, 1830
Family HYRIIDAE Swainson, 1840
Subfamily HYRIINAE s.s.
Tribe RHIPIDODONTINI Starobogatov, 1970
Genus Diplodon Spix & Wagner, 1827

Species Diplodon parallelopipedon (Lea, 1834)
For more information about Diplodon and the general taxonomic mess of the Rhipidodontini, check out:
Modell, H. 1950. Sudamerikanische Najaden der Gattungen Castalia, Schleschiella und Ecuadorea. Archiv für Molluskenkunde 9: 135-146.
Parodiz, J.J. 1968. Annotated catalogue of the genus Diplodon (Unionacea - Hyriidae). Sterkiana 30: 1-22.
Haas, F. 1969. Superfamilia Unionacea. Das Tierreich (Berlin) 88: 663 pp.
Simone, L.R.L. 2006. Land and Freshwater Molluscs of Brazil: An Illustrated Inventory of the Brazilian Malacofauna, Including Neighboring Regions of South America, Respect to the Terrestrial and Freshwater Ecosystems. EGB. Fapesp. São Paulo. 390 pp.