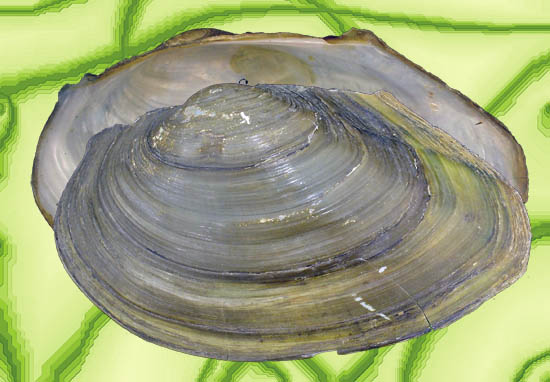 USNM 86381. Lake Champlain, Vermont.
(paratype of Symphynota benedictensis Lea)
Pyganodon grandis is hands down the most widely distributed freshwater mussel in North America. The species is known from Arctic Canada to Mexico, its range occupying much of the region east of the Rocky Mountains. No mussel gets that far being a specialist, and P. grandis is found in various habitats (from lake to large rivers) and on many different host fish. As a result, it is an extremely variable mollusk, and the current taxonomy of P. grandis incorporates numerous described forms.
Until recently (the last quarter of the 20th century), Pyganodon was lumped into the widespread, European genus Anodonta. However, the phylogenetic evidence to-date suggests that Pyganodon is more closely related to other North American anodontines than to any Old World taxa.