Page last updated
1 October 2007
Mussel of the Month
The October 2007 Mussel of the Month is Schepmania parcesculpta. Schepmania is a genus of two species endemic to the island of Borneo in the Indo-Pacific.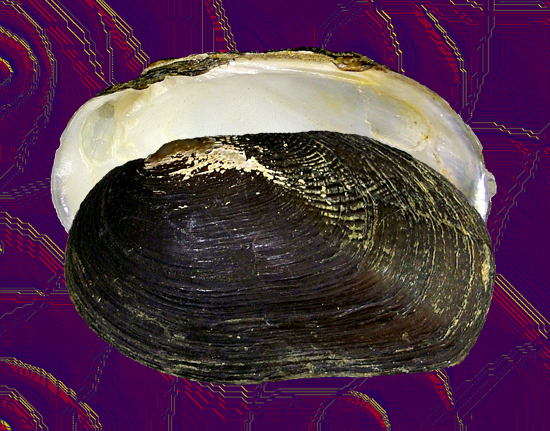 ZMB 108847. "Guleh River", Borneo [near Sangkulirang]. (type)
There is little that can be said about the genus Schepmania. The anatomy of neither species currently assigned to the genus is known. Based upon the lack of data, some have argued that Schepmania might belong to the Margaritiferidae (Bogatov et al., 2003), but we follow Haas in placing it under the Unionidae. However, Haas's conclusions were based entirely on shell characters and geography.
Phylum Mollusca
Class Bivalvia
Subclass Palaeoheterodonta
Order Unionoida
Superfamily UNIONOIDEA Rafinesque, 1820
Family UNIONIDAE s.s.
Genus Schepmania Haas, 1910
Species Schepmania parcesculpta (von Martens, 1903)
For more information about Schepmania, check out:
Bogatov, V.V., L.A. Prozorova & Ya.I. Starobogatov. 2003. The family Margaritiferidae (Mollusca: Bivalvia) in Russia. Ruthenica 13: 41-52.
Haas, F. 1969. Superfamilia Unionacea. Das Tierreich (Berlin) 88: 663 pp.