Page last updated
1 November 2007
Mussel of the Month
The November 2007 Mussel of the Month is Cucumerunio novaehollandiae. As currently recognized, Cucumerunio is a genus of two species, one each on Australia and New Zealand.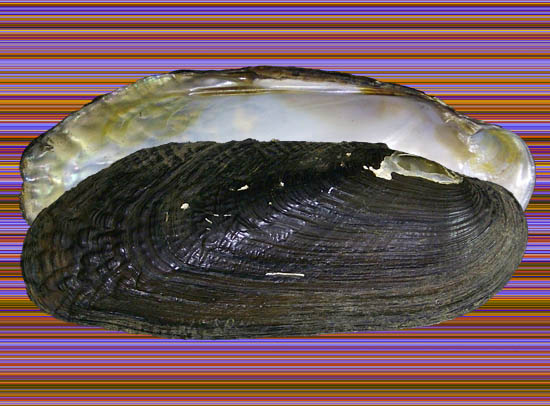 ZMB 108723. Richmond River, New South Wales, Australia.
(type Unio cumingianus Dunker, 1852)
According to Hugh Jones of the University of Sydney and Jessup Fellow at the Academy of Natural Sciences of Philadelphia:
"This mussel is morphologically distinct from all other Australian species, possessing an elongate-elliptical shell with a distinctive, nodular shell sculpture. Adult shells are large (200 mm) and black, often developing an arched shape with age. Cucumerunio is found in the coastal freshwater rivers and streams of eastern Australia from the Burnett River on the Tropic of Capricorn, and extends south to the tributaries of the Hunter River. It favours fast-flowing, stable environments in gravel-bed streams and is often found in glides at the base of riffles or on the outer bends of streams. Their habitat is often characterised by large boulders that help to stabilise the streambed sediments in the strong flow. Unlike other other Australian species, which reproduce over the warmer months, C. novaehollandiae has a brief, highly synchronised spawning period in autumn and retains its glochidia over the winter months, releasing them in early spring. The glochidia are a distinctive horseshoe shape with two small hooks on each valve, and are much smaller than other Australian mussels."
Phylum Mollusca
Class Bivalvia
Subclass Palaeoheterodonta
Order Unionoida
Superfamily ETHERIOIDEA Deshayes, 1830
Family HYRIIDAE Swainson, 1840
Subfamily HYRIINAE s.s.
Tribe HYRIDELLINI McMichael, 1956 (1934)
Genus Cucumerunio Iredale, 1934
Species Cucumerunio novaehollandiae (Gray, 1834)
For more information about Cumberlandia, check out:
Jones, H.A., R.D. Simpson & C.L. Humphrey. 1986. The reproductive cycles and glochidia of fresh-water mussels (Bivalvia: Hyriidae) of the Macleay River, northern New South Wales, Australia. Malacologia 27: 185-202.
McMichael, D.F. & I.D. Hiscock. 1958. A monograph of the freshwater mussels (Mollusca: Pelecypoda) of the Australian region. Australian Journal of Marine and Freshwater Research 9: 372-508.