Page last updated
24 December 2007
Mussel of the Month
The December 2007 Mussel of the Month is Prisodontopsis aviculaeformis. Prisodontopsis is a monotypic genus endemic to Lake Mweru in southern Africa.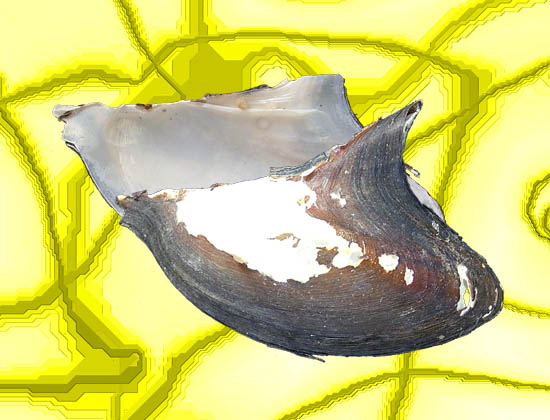 ANSP 416271. Lake Mweru, at Kashikishi near Nchelenge, Zambia.
23 May 2007, D.L. Graf & A.D. Chilala!
Like Lake Tanganyika, Lake Mweru habors some odd, monotypic freshwater mussel genera, and one of them is Prisodontopsis. The shell of Prisodontopsis resembles the Neotropical hyriid genus Prisodon (hence its name), but it is classified as member of the Unionidae based upon soft anatomical characters. However, the only published examination of the anatomy of Prisodontopsis comes from Pain & Woodward's (1968) study of a single, dessicated specimen. We look forward to including the preserved material that we collected earlier this year at Nchelenge in anatomical and molecular studies.
Phylum Mollusca
Class Bivalvia
Subclass Palaeoheterodonta
Order Unionoida
Superfamily UNIONOIDEA Rafinesque, 1820
Family UNIONIDAE s.s.
Subfamily PSEUDAVICULINAE Modell, 1942
Genus Prisodontopsis Tomlin, 1928
(+ Pseudavicula Simpson, 1900 non Etheridge, 1892)
Species Prisodontopsis aviculaeformis Woodward, 1991
(+ Unio (Metaptera) johnstoni E.A. Smith, 1893)
For more information about Prisodontopsis, check out:
Pain, T. & F.R. Woodward. 1968. A monograph of the African bivalves of the genera Brazzaea Bouorguignat, Mweruella Haas, Prisodontopsis Tomlin and Pseudospatha Simpson. Rev. Zool. Bot. Afr. 77: 190-220.
Mandahl-Barth, G. 1988. Studies on African freshwater bivalves. Danish Bilharziasis Laboratory, Charlottenlund, Denmark. 161 pp.
Daget, J. 1998. Catalogue raisonné des Mollusques bivalves d'eau douce africans. Backhuys Publishers, The Netherlands. 329 pp.