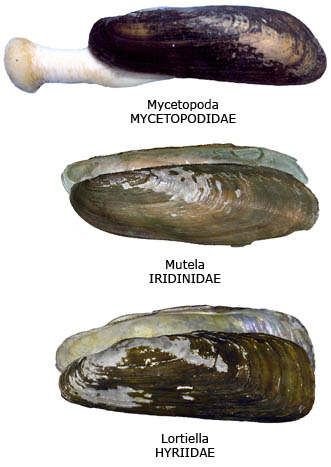 Solenaia is found throughout southeastern Asia, from India-Burma and Indochina, north to the Yangtze. A new species, S. khwaenoiensis was recently described from Thailand, and perhaps the diversity of this genus will grow as new areas are explored.
Solenaia soleniformis, as the name suggests, resembles the marine bivalve Solen. This elongate, edentulate morphology has arisen multiple times within the Unionoida, and this convergent shell morphology has historically caused some confusion in the taxonomic literature. However, while the shells of these lineages may have a similar appearance, when the soft-parts are available, there can be no confusing members of different these different families. In fact, for the most part, the family to which these genera belong can be determined from the shell alone, once one is familiar with the conchological synapomorphies of the different groups.
It does become difficult to infer anything about relationships among the southeast Asian unionids with elongate shells lacking robust hinge teeth. We expect that as molecular characters are added to the growing morphological database, some of these mysteries will be unraveled.
The adaptive advantages of various shell shapes have been discussed by Savazzi & Peiyi and Watters.