Page last updated
30 July 2008
Mussel of the Month
The August 2008 Mussel of the Month is Potomida littoralis. Potomida is considered a monotypic genus with a circum-Mediterranean distribution.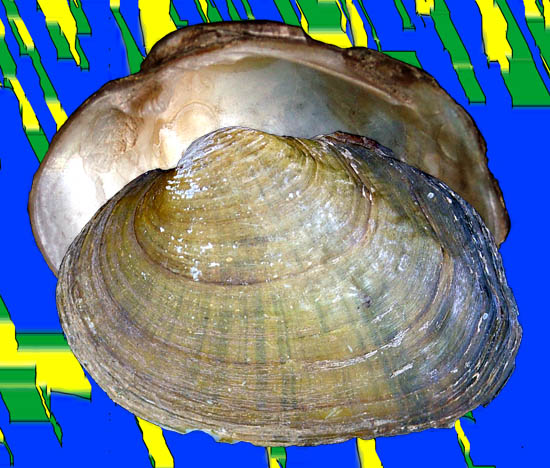 MNHN. France.
P. littoralis is a widespread species in southern Europe, northern Africa and the Middle East. Like other widely distributed freshwater mussel species in the rivers of the western Palearctic, this one is also highly variable and several subspecies are recognized. However, the philosophies and methods by which these taxa have been recognized are now dated, and a modern approach to understanding the evolution of Potomida littoralis populations (as well as for other European species) may result in a revision of the genus.
The phylogenetic placement of Potomida is also of interest. Unlike the other unionid genera of Europe (like Unio and Anodonta), P. littoralis lacks the hooked-type glochidia of the subfamily Unioninae. Graf & Cummings (2007) left this species as "incertae sedis" within the family to emphasize the cloud that hangs over the higher taxonomy of this lineage.
Just as an historical aside, we found the specimen P. littoralis figured below in the BMNH in 2004, collected by Sir Richard Burton while he was British Consul in Damascus.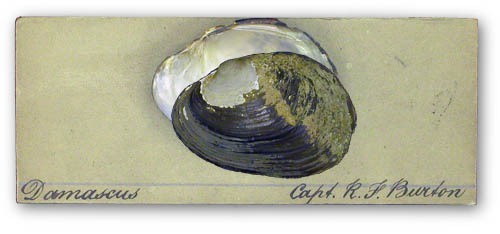 Phylum Mollusca
Class Bivalvia
Subclass Palaeoheterodonta
Order Unionoida
Superfamily UNIONOIDEA Rafinesque, 1820
Family UNIONIDAE Rafinesque, 1820

Genus Potomida Swainson, 1840
[= Psilunio Stefanescu, 1896]
Species Potomida littoralis (Cuvier, 1798)
For more information about Potomida check out:
Araujo, R. 2008. On the validity of the name Potomida littoralis (Cuvier, 1798) (Bivalvia, Unionidae). Graellsia, 64: 135-137.
Graf, D.L. & K.S. Cummings. 2007. Review of the systematics and global diversity of freshwater mussel species (Bivalvia: Unionoida). Journal of Molluscan Studies 73: 291-314.
Graf, D.L. 2007. Palearctic freshwater mussel (Mollusca: Bivalvia: Unionoida) diversity and the Comparatory Method as a species concept. Proceedings of the Academy of Natural Sciences of Philadelphia 156: 71-88.