Page last updated
8 October 2008
Mussel of the Month
The October 2008 Mussel of the Month is Arotonaias cyrenoides. Arotonaias is currently recognized as a genus of three species endemic to the area around Lake Nicaragua in Central America.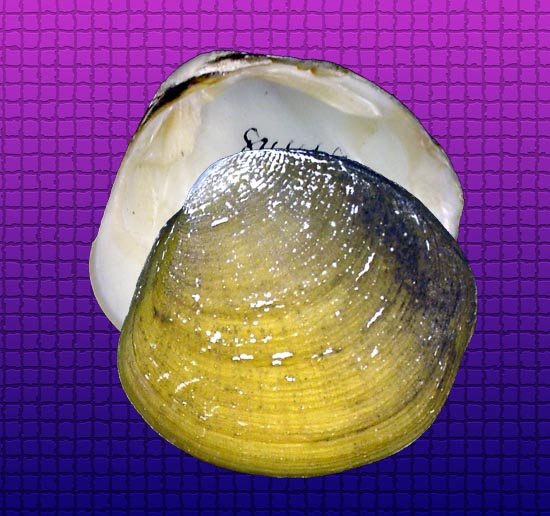 USNM 84419. Lake Nicaragua (lectotype, Unio newcombianus Lea).
So many of the freshwater mussel species known from Central America are not known well at all. For example, many genera have been so incompletely investigated that they cannot even be placed in the correct tribe (i.e., Nephronaias). However, other genera, like Arotonaias, can be reasonably assigned to the Lampsilini based upon such characters as sexually-dimorphic shells.
Not only are there problems assigning Mesoamerican genera to family-level groups, but the species diversity isn't well described either. The taxonomy of this geographic assemblage has not really been thoroughly reevaluated since Frierson (1927) — subsequent species lists by Haas (1969) and Graf & Cummings (2007) merely repeat Frierson's system. Given that the currently recognized diversity of Central America freshwater mussel species is greater than 50% of the total for the whole of the Neotropics (102/172), it is our impression that there this is an over-estimate.
Phylum Mollusca
Class Bivalvia
Subclass Palaeoheterodonta
Order Unionoida
Superfamily UNIONOIDEA Rafinesque, 1820
Family UNIONIDAE s.s.
Subfamily AMBLEMINAE Rafinesque, 1820
Tribe LAMPSILINI von Ihering, 1901

Genus Arotonaias von Martens, 1900
[+ Ptychoderma Simpson, 1900]
Species Arotonaias cyrenoides (Philippi, 1847)
For more information about Monocondylaea and the classification of Neotropical freshwater mussels check out:
Haas, F. 1969. Superfamilia Unionacea. Das Tierreich (Berlin) 88: 663 pp.
Frierson, L.S. 1927. A Classification and Annotated Check List of the North American Naiades. Baylor University Press, Waco, Texas. 111 pp.
Graf, D.L. & K.S. Cummings. 2007. Review of the systematics and global diversity of freshwater mussel species (Bivalvia: Unionoida). Journal of Molluscan Studies 73: 291-314.