Page last updated
6 December 2008
Mussel of the Month
The December 2008 Mussel of the Month is Pleurobema clava. Pleurobema is a genus of 35 species found in eastern North America from the Great Lakes to the Gulf of Mexico.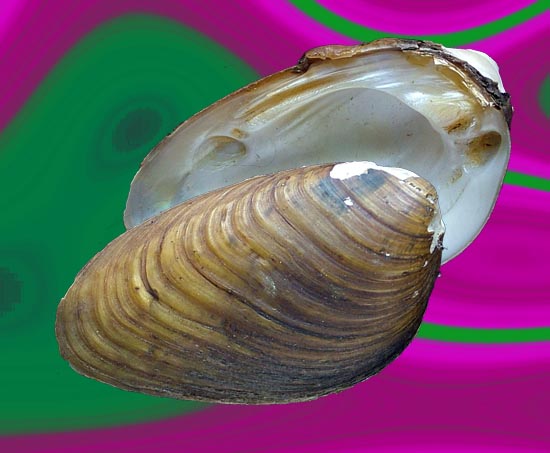 ANSP 20229. Ohio (type of Obliquaria scalenia Rafinesque).
Pleurobema is a common and widespread genus in eastern North America with almost three dozen species. This diversity is represented by both widespread species that advanced northward following the retreat of continental glaciers at the close of the Pleistocene, as well as species with more restricted ranges. For example, 26 Pleurobema are known only from streams draining directly to the Gulf of Mexico (i.e, not the Mississippi). Many of these are known only from single basins.
Complicating our understanding of the genus is the fact that some species are known from very few specimens, and some are perhaps extinct.
Phylum Mollusca
Class Bivalvia
Subclass Palaeoheterodonta
Order Unionoida
Superfamily UNIONOIDEA Rafinesque, 1820
Family UNIONIDAE s.s.
Subfamily AMBLEMINAE Rafinesque, 1820
Tribe PLEUROBEMINI Hannibal, 1912

Genus Pleurobema Rafinesque, 1819

Species Pleurobema clava (Lamarck, 1819)
For more information about Pleurobema and its diversity, check out:
Graf, D.L. & K.S. Cummings. 2007. Review of the systematics and global diversity of freshwater mussel species (Bivalvia: Unionoida). Journal of Molluscan Studies 73: 291-314.
Campbell, D.C., P.D. Johnson, J.D. Williams, A.K Rindsberg, J.M. Serb, K.K. Small & C. Lydeard. 2008. Identification of 'extinct' freshwater mussel species using DNA barcoding. Molecular Ecology Resources (2008).