Page last updated
4 January 2009
Mussel of the Month
The January 2009 Mussel of the Month is Caudiculatus caudiculatus. Caudiculatus is a monotypic genus endemic to the island of Borneo.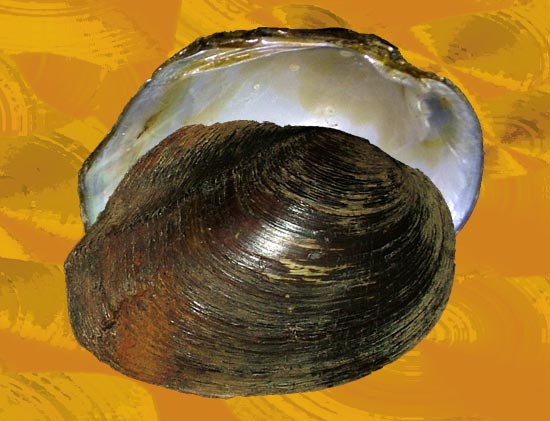 ZMB 9087. Pulu Mutjan, Borneo (syntype).
Caudiculatus caudiculatus is a little, brown, poorly-known freshwater mussel known only from Borneo, in the East Indies. We don't have much to say about it other than we have it on good authority that it exists (or at least that it existed) (Graf & Cummings, 2007).
The Treatise on Invertebrate Paleontology reports that Caudiculatus has no known fossil record (Haas, 1969b).
The internets don't have much more to say about it. A google search reveals a few pages that lists its name (e.g., DiscoverLife, Mussel Genera of the World), a google books reference to Simpson (1914), a few hits to various pages on our web site, and then lots of links to other organisms that go by the same trivial name.
Who wants to go look for mussels in Borneo?!
Phylum Mollusca
Class Bivalvia
Subclass Palaeoheterodonta
Order Unionoida
Superfamily UNIONOIDEA Rafinesque, 1820
Family UNIONIDAE Rafinesque, 1820

Genus Caudiculatus Simpson, 1900

Species Caudiculatus caudiculatus (von Martens, 1866)
For more information about Caudiculatus and its place in the world, check out:
Graf, D.L. & K.S. Cummings. 2007. Review of the systematics and global diversity of freshwater mussel species (Bivalvia: Unionoida). Journal of Molluscan Studies 73: 291-314.
Haas, F. 1969a. Superfamilia Unionacea. Das Tierreich (Berlin) 88: 663 pp.
Haas, F. 1969b. Superfamily Unionacea. pp. N:411-470. in R.C. Moore (ed.) Treatise on Invertebrate Paleontology. Geological Society of America and the University of Kansas. Part N, Vol. 1 (of 3), Mollusca.
Simpson, C.T. 1914. A descriptive catalogue of the naiades, or pearly fresh-water mussels. Parts I-III. Bryant Walker, Detroit, Michigan. 1540 pp.