Page last updated
3 February 2009
Mussel of the Month
The February 2009 Mussel of the Month is Theliderma cylindrica. Theliderma is a genus of six species endemic to eastern North America.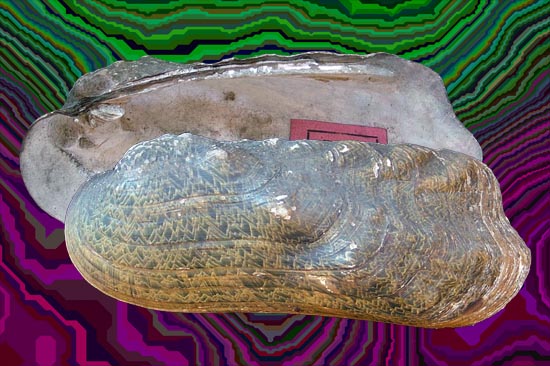 SMF 4310. North America (Neotype)
In most sources where one might look up the classification of this month's Mussel of the Month, you would find it identified as "Quadrula cylindrica" (Cummings & Mayer, 1992; Williams et al., 1994; Williams et al., 2008). However, based upon a recent phylogenetic analysis (Serb et al., 2003) and a generic revision (Graf & Cummings, 2007), we think this mollusk might be better served under the name Theliderma cylindrica. We provided more detail about this nomenclatural shift when Quadrula had its month.
T. cylindrica is widespread in the interior basin of the southern United States (occurring on both sides of the Mississippi River), and the species is also know as far north as the Maumee Basin in the Great Lakes. Interestingly, T. cylindrica is absent from the Upper Mississippi.
T. cylindrica is considered threatened throughout its range (Williams et al., 1993). Two subspecies are recognized: T. c. strigillata from the Upper Tennessee System and T. c. c. from everywhere else (Williams et al., 2008).
Phylum Mollusca
Class Bivalvia
Subclass Palaeoheterodonta
Order Unionoida
Superfamily UNIONOIDEA Rafinesque, 1820
Family UNIONIDAE Rafinesque, 1820
Subfamily AMBLEMINAE Rafinesque, 1820
Tribe QUADRULINI von Ihering, 1901

Genus Theliderma Swainson, 1840
[= Orthonymus Agassiz, 1852]
Species Theliderma cylindrica (Say, 1817)
For more information about Theliderma cylindrica, check out:
Cummings, K.S. & C.A. Mayer. 1992. Field Guide to Freshwater Mussels of the Midwest. Illinois Natural History Survey Manual 5. 194 pp.
Graf, D.L. & K.S. Cummings. 2007. Review of the systematics and global diversity of freshwater mussel species (Bivalvia: Unionoida). Journal of Molluscan Studies 73: 291-314.
Serb, J.M. J.E. Buhay & C. Lydeard. 2003. Molecular systematics of the North American freshwater bivalve genus Quadrula (Unionidae: Ambleminae) based on mitochondrial ND1 sequences. Molecular Phylogenetics and Evolution 28: 1-11.
Williams, J.D., M.L. Warren, Jr., K.S. Cummings, J.L. Harris & R.J. Neves. 1993. Conservation status of freshwater mussels of the United States and Canada. Fisheries 18(9): 6-22.
Williams, J.D., A.E. Bogan & J.T. Garner. 2008. Freshwater Mussels of Alabama and the Mobile Basin in Georgia, Mississippi and Tennessee. University of Alabama Press, Tuscaloosa. 908 pp.