Page last updated
2 March 2009
Mussel of the Month
The March 2009 Mussel of the Month is Cafferia caffra. Cafferia is a monotypic genus from southern Africa.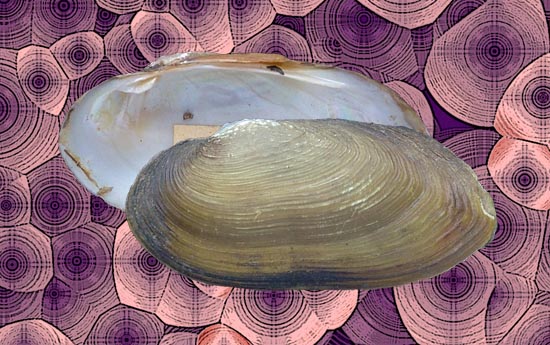 SMF 3539. South Africa, Vaal near Barclay (paratype Unio vaalensis Chaper)
Cafferia caffra is an interesting freshwater mussel for at least two reasons. For one, belongs to the Unio-group of genera (Unionini), as evidenced by its hooked-type glochidia (Heard & Vail, 1976; Graf & Cummings, 2006a). There are other such unionines in Africa, but none in Subsaharan Africa. Unio mancus and U. abyssinicus are limited to the Nile Basin. This suggests (to us, anyway) at least two separate invasions of Africa by the Unionidae from the north: the progenitors of Coelatura, etc. with their unhooked-type glochidia and the Unio-group, represented by Cafferia.
C. caffra also has a unique distribution pattern. It is found throughout southern Africa, but it reaches its northern limit in the Zambezi and Kafue rivers, including above Victoria Falls (Appleton, 1979; Graf & Cummings, 2006b) The distribution of this freshwater mussel is consistent with its occurrence in the ancient Lake Makgadikgadi.
Phylum Mollusca
Class Bivalvia
Subclass Palaeoheterodonta
Order Unionoida
Superfamily UNIONOIDEA Rafinesque, 1820
Family UNIONIDAE Rafinesque, 1820
Subfamily UNIONINAE s.s.
Tribe UNIONINI s.s.

Genus Cafferia Simpson, 1900

Species Cafferia caffra (Krauss, 1848)
For more information about Cafferia and southern African freshwater mussels, check out:
Appleton, C.C. 1979. The Unionacea (Mollusca, Lamellibranchiata) of South-Central Africa. Annals of the South African Museum 77: 151-174.
Graf, D.L. & K.S. Cummings. 2006a. Palaeoheterodont Diversity (Mollusca: Trigonioida + Unionoida): what we know and what we wish we knew about freshwater mussel evolution. Zoological Journal of the Linnean Society 148: 343-394.
Graf, D.L. & K.S. Cummings. 2006b. Freshwater mussels (Mollusca: Bivalvia: Unionoida) of Angola, with description of a new species, Mutela wistarmorrisi. Proceedings of the Academy of Natural Sciences of Philadelphia 155: 163-194.
Heard, W.H. & V.A. Vail. 1976. The systematic position of Unio caffer (Pelecypoda: Unionoida: Unionidae). Zoologica Africana 11: 45-58.