Page last updated
2 April 2009
Mussel of the Month
The April 2009 Mussel of the Month is Hyridella depressa. Hyridella is a genus of eight species found throughout Australasia.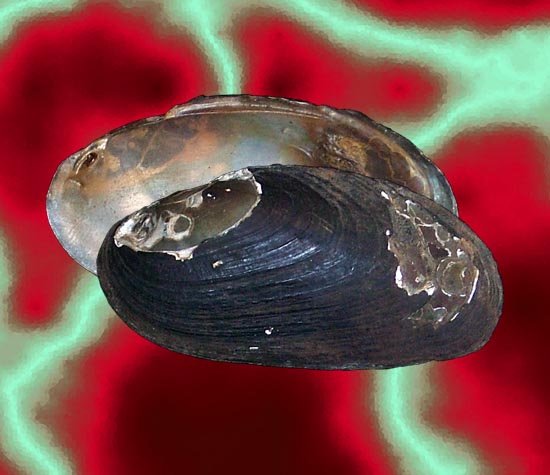 MNHN. Nouvelle Hollande(type Unio depressa Lamarck).
Hyridella is the most diverse and widespread of the Australasian freshwater mussel genera, with five species on Australia, two on New Guinea and the Solomon Islands, and even one in New Zealand. However, that last one is probably just a taxonomic legacy. All the other New Zealand "Hyridella" have recently been moved to Echyridella, and the same will probably happen to H. aucklancica (Fenwick & Marshall, 2006; Graf & Cummings, 2007).
Phylum Mollusca
Class Bivalvia
Subclass Palaeoheterodonta
Order Unionoida
Superfamily ETHERIOIDEA Deshayes, 1830
Family HYRIIDAE Swainson, 1840
Subfamily HYRIINAE s.s.
Tribe HYRIDELLINI s.s.

Genus Hyridella Swainson, 1840

Species Hyridella depressa (Lamarck, 1819)
For more information about Hyridella and the taxonomy of Australasian freshwater mussels, check out:
Fenwick, M.C. & B.A. Marshall. 2006. A new species of Echyridella from New Zealand, and recognition of Echyridella lucasi (Suter, 1905) (Mollusca: Bivalvia: Hyriidae). Molluscan Research 20: 69-76.
Graf, D.L. & K.S. Cummings. 2007. Review of the systematics and global diversity of freshwater mussel species (Bivalvia: Unionoida). Journal of Molluscan Studies 73: 291-314.
McMichael, D.F. & I.D. Hiscock. 1958. A monograph of the freshwater mussels (Mollusca: Pelecypoda) of the Australian region. Australian Journal of Marine and Freshwater Research 9(3): 372-508 + 19 plates.