Page last updated
1 July 2009
Mussel of the Month
The July 2009 Mussel of the Month is Psoronaias semigranosa. Psoronaias is a genus of eight species found in Central America.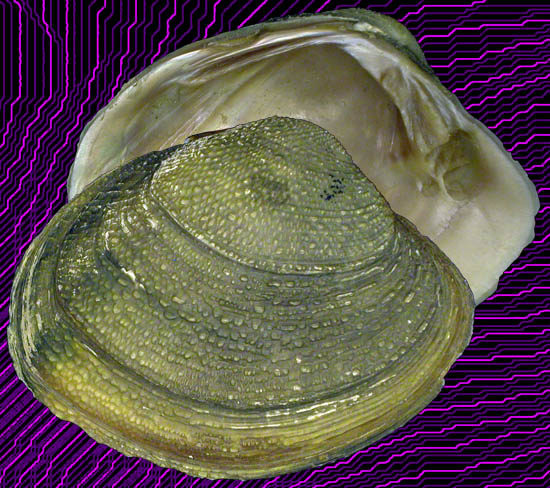 BMNH 196496. Mexico (specimen figured by Reeve, 1864: pl. 10, sp. 36)
We don't have too much to say about P. semigranosa or the other species of Psoronaias. The taxonomy of the genus dates from Frierson (1927) and Haas (1969), and so modern species concepts have not really been taken into consideration. This is a general problem with the taxonomy of Mesoamerican freshwater mussels.
While malacologists have been largely silent on the subject of Psoronaias for the last 50 years or so, the archeological community has been making some progress. For example, Emery (2008) reported that species of Psoronaias (and other freshwater mollusks) were used as food by the Mayan people of Guatemala.
Phylum Mollusca
Class Bivalvia
Subclass Palaeoheterodonta
Order Unionoida
Superfamily UNIONOIDEA Rafinesque, 1820
Family UNIONIDAE Rafinesque, 1820
Subfamily AMBLEMINAE Rafinesque, 1820

Genus Psoronaias Crosse & Fischer, 1894

Species Psoronaias semigranosa (von dem Busch in Philippi, 1845)
For more information about Psoronaias, check out:
Emery, K.F. 2008. A zooarchaeological test for dietary resource depression at the end of the classical period in the Petexbatun, Guatemala. Human Ecology 36: 617-634.
Frierson, L.S. 1927. A Classification and Annotated Check List of the North American Naiades. Baylor University Press, Waco, Texas. 111 pp.
Haas, F. 1969. Superfamilia Unionacea. Das Tierreich (Berlin) 88: 663 pp.