Page last updated
2 October 2009
Mussel of the Month
The October 2009 Mussel of the Month is Inversidens brandtii. Inversidens is a genus of two species, found in Japan, China, and eastern Russia.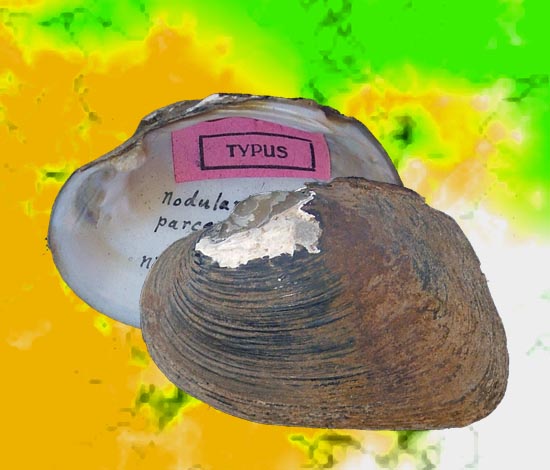 SMF 3646. Mikawa, Japan (type of U. parcedentata).
Inversidens is currently thought of as consisting of only two species. Formerly, however, it was regarded to have as many as six species (Haas, 1969). Improvements in data beyond just conchological similarities have inspired several revisions, resulting in the former Inversidens being split into three different genera: Inversidens, Inversiunio, and Pronodularia. Since we published our global checklist (Graf & Cummings, 2007), new species have been described in both Inversiunio and Pronodularia. Furthermore, the Russian Comparatory School of Malacology has has also weighed in and recognized numerous species that no one else sees. We don't regard their special brand of splitting to be that helpful.
Haas (1969)
Current

---

---

Inversidens brandtii
Inversidens parcedentata
Inversidens brandtii
Inversidens pantoensis
Inversidens pantoensis

Inversidens japanensis japanensis



Pronodularia japanensis
Pronodularia seomjinensis
Inversidens japanensis jokohamensis
Inversidens haconensis
Inversiunio jokohamensis
Inversidens reinianus
Inversiunio reinianus
Inversiunio yanagawensis
Inversiunio verrucosus
Phylum Mollusca
Class Bivalvia
Subclass Palaeoheterodonta
Order Unionoida
Superfamily UNIONOIDEA Rafinesque, 1820
Family UNIONIDAE s.s.

Genus Inversidens Haas, 1911

Species Inversidens brandtii (Kobelt, 1879)
For more information about the taxonomy of Inversidens, check out:
Graf, D.L. & K.S. Cummings. 2007. Review of the systematics and global diversity of freshwater mussel species (Bivalvia: Unionoida). Journal of Molluscan Studies 73: 291-314.
Haas, F. 1969. Superfamilia Unionacea. Das Tierreich (Berlin) 88: 663 pp.
Kondo, T. 1982. Taxonomic revision of Inversidens (Bivalvia: Unionidae). Venus 41: 181-198.
Kondo, T. Y. Hyun, & C. Seung-Ho. 2007. Two new species of unionid mussels (Bivalvia: Unionidae) from Korea. Venus 66: 69-73.