Page last updated
1 December 2009
Mussel of the Month
The December 2009 Mussel of the Month is Tamsiella tamsiana. Tamsiella is a genus of two Neotropical species: one from the Orinoco and one from the Upper Amazon.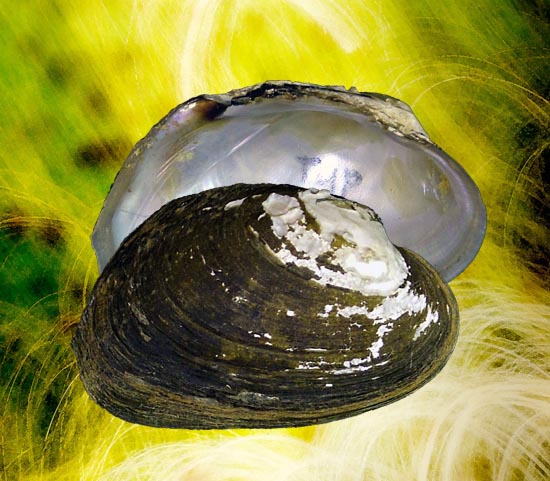 ZMB 101899. Rio Chirgua, 12 mi SW Pto Cabello, Venezuela.
Almost nothing is known about the genus Tamsiella. A Google web search merely provides links to taxonomic databases, and Google Scolar returns only four hits! The genus is represented by two species: T. tamsiana in the Orinico Basin and T. amazonica in the upper Amazon.
Phylum Mollusca
Class Bivalvia
Subclass Palaeoheterodonta
Order Unionoida
Superfamily ETHERIOIDEA Deshayes, 1830
Family MYCETOPODIDAE Gray, 1840
Subfamily MONOCONDYLAEINAE Modell, 1942

Genus Tamsiella Haas, 1931

Species Tamsiella tamsiana (Dunker, 1858)
For more information about the Tamsiana, check out:
Cummings, K.S. Freshwater Mussel (Unionoida) Genera of the World.
Haas, F. 1931. Versuch einer kritischen Sichtung der südamerikanischen Najaden, hauptsächlich an Hand der Sammlung des Senckenberg-Museums III. Senckenbergiana 13(2):87-110.
Bonetto, A.A. 1972. A new species of Monocondylaeinae from the Amazon Basin, and some considerations on this subfamily in the hydrographic systems of South America. Amazoniana. Limnologia et Oecologia Regionalis Systemae Fluminis Amazonas 3(2):224-230.
Simone, L.R.L. 2006. Land and Freshwater Molluscs of Brazil: An Illustrated Inventory of the Brazilian Malacofauna, Including Neighboring Regions of South America, Respect to the Terrestrial and Freshwater Ecosystems. EGB, Fapesp., Sao Paulo 390 pp.