Page last updated
25 October 2014
Mussel of the Month
The January 2010 Mussel of the Month is Actinonaias ligamentina. As the taxonomy currently stands, Actinonaias is a New World genus of nine species — mostly from Mexico.
[We now classify this mussel in the genus Ortmanniana.]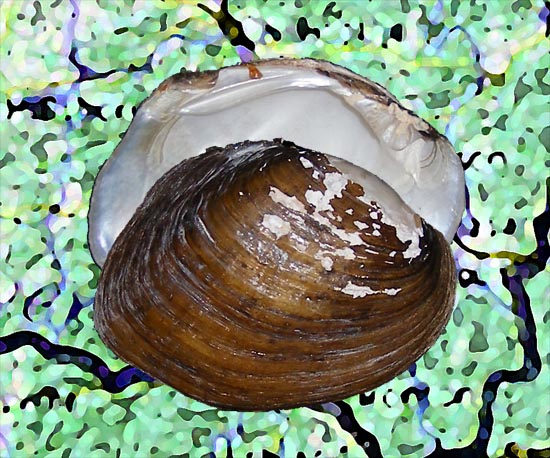 MNHN. Rapporte de l'Ohio (holotype by monotypy? of Unio ligamentina Lamarck).
Like so many genera of the Unionidae, Actinonaias is either an interesting biogeographical anomaly or (more likely) a frustrating example of a taxonomic arrangement that has out-lived its usefulness.
The distributions of the nine species that currently comprise Actinonaias leave the genus with a widely disjunct distribution. Two species, A. ligamentina and A. pectorosa, occur in Eastern North America. The former is widespread while the latter is restricted to the Tennessee and Cumberland rivers. The other seven species are all known only from various sites in Mexico. Off the tops of our heads, we can't think of any other genus with a similar distribution. Interesting...
Or not. Rather than being a biology problem, a quick review of the history suggests an alternative. Ortmann (1912) was the first to pull A. ligamentina and the other species now in Actinonaias from Simpson's (1900, 1914) broad concept of Lampsilis. However, at the time, Ortmann (1912) used the name Nephronaias for these species, as well as a number of other Mesoamerican taxa. Eventually, it was revealed that Nephronaias consisted of both species with fancy lampsiline marsupia and species without. Those without remained in the genus Nephronaias, and the lampsiline species were united in the genus Actinonaias (Ortmann, 1919; Ortmann & Walker, 1922). At the time, that shift led to an improvement in freshwater mussel taxonomy. Ortmann (the last genius to study mussels) used his vast knowledge of the soft-anatomy of these mollusks to take us beyond a mostly conchology-based system.
Not long after Ortmann's contribution to the problem, Frierson (1927) recognized the disjunction described above. He proposed taking Ortmann's generic splitting further by creating the genus Ortmanniana for ligamentina, but he also included the taxa that we now recognize as Lampsilis higginsi and L. abrupta. Frierson's (1927; Haas, 1969) concept of Ortmanniana was subsequently abandoned, and the Nearctic species of Actinonaias fell back in with the Mesoamerican species, and thus our current generic concept with 9 species. It's all a rich tapestry.
The type of Actinonaias (Unio sapotalensis Lea, 1841) resides among the Mesoamerican assemblage. Fortunately, if future phylogenetic work results in the need for the Nearctic species (i.e., A. ligamentina and A. pectorosa) to be removed to their own genus, Ortmanniana is available.
Phylum Mollusca
Class Bivalvia
Subclass Palaeoheterodonta
Order Unionoida
Superfamily UNIONOIDEA Rafinesque, 1820
Family UNIONIDAE s.s
Subfamily AMBLEMINAE Rafinesque, 1820
Tribe LAMPSILINI von Ihering, 1901

Genus Actinonaias Crosse & Fischer, 1894
[+ Ortmanniana Frierson, 1927]

Species Actinonaias ligamentina (Lamarck, 1819)
[+ carinata Barnes, 1823]
For more information about Actinonaias, check out:
Frierson, L.S. 1927. A Classification and Annotated Check List of the North American Naiades. Baylor University Press, Waco, Texas. 111 pp.
Haas, F. 1969. Superfamilia Unionacea. Das Tierreich (Berlin) 88: 663 pp.
Ortmann, A.E. 1912. Notes upon the families and genera of the Najades. Annals of the Carnegie Museum, 8: 222-365.
Ortmann, A.E. 1919. A monograph of the naiades of Pennsylvania. Part III: Systematic account of the genera and species. Memoirs of the Carnegie Museum 8(1): 1-385.
Ortmann, A.E. & B. Walker. 1922. On the nomenclature of certain North American naiades. Occasional Papers of the Museum of Zoology, University of Michigan, No. 112. 75 pp.
Simpson, C.T. 1900. Synopsis of the naiades, or pearly fresh-water mussels. Proceedings of the United States National Museum 22(1205): 501-1044.
Simpson, C.T. 1914. A descriptive catalogue of the naiades, or pearly fresh-water mussels. Parts I-III. Bryant Walker, Detroit, Michigan. 1540 pp.