Page last updated
28 February 2010
Mussel of the Month
The March 2010 Mussel of the Month is Rhombuniopsis tauriformis. Rhombuniopsis is a genus of three species from southern China.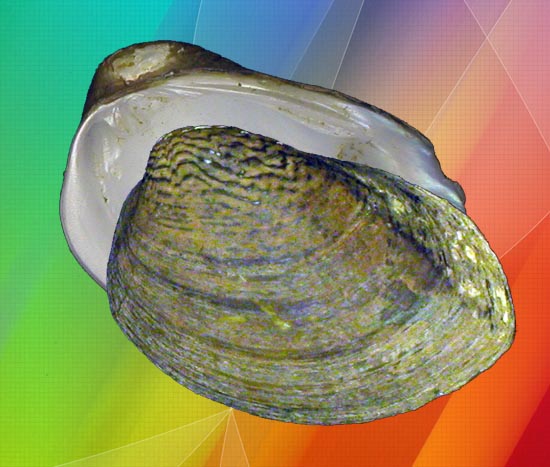 BMNH 1906.5.8.72. Yunnan-fu, Yunnan (type).
Rhombuniopsis is another one of those genera about which we know very little. Google it, and you are likely to first run across this page -- as well as all the taxonomic dictionaries that have pulled the name from various lists. The most detailed assessment of the species of this genus was probably that of Moskvicheva & Starobogatov (1973).
It is somewhat unclear where this genus goes in the classification of freshwater mussels. Most western authorities have placed Rhombuniopsis among the amblemine mussels following Haas (1969). However, the Russians — well known for their divergent opinions regarding freshwater mussels systematics — have generally placed Rhombuniopsis close to Unio (Tribe Unionini) (Starobogatov, 1970; Korniushin, 1998). In our global checklist, we followed the latter arrangement (Graf & Cummings, 2007), but we look forward to a modern appraisal of the data.
Phylum Mollusca
Class Bivalvia
Subclass Palaeoheterodonta
Order Unionoida
Superfamily UNIONOIDEA Rafinesque, 1820
Family UNIONIDAE s.s
Subfamily UNIONINAE s.s.
Tribe UNIONINI s.s.

Genus Rhombuniopsis Haas, 1920

Species Rhombuniopsis tauriformis (Fulton, 1906)
For more information about Rhombuniopsis, check out:
Graf, D.L. & K.S. Cummings. 2007. Review of the systematics and global diversity of freshwater mussel species (Bivalvia: Unionoida). Journal of Molluscan Studies 73: 291-314.
Haas, F. 1969. Superfamily Unionacea. pp. N:411-470. in R.C. Moore (ed.) Treatise on Invertebrate Paleontology. Geological Society of America and the University of Kansas. Part N, Vol. 1 (of 3), Mollusca. pp. N411-N470.
Korniushin, A.V. 1998. Review of the studies on freshwater mollusc systematics carried out by the Russian taxonomic school. Malacological Review - Bivalvia I Supplement 7: 65-82.
Moskvicheva, I.M. & Ya.I. Starobogatov. 1973. On the East Asian Potomida-like Unionidae (Bivalvia). Bulletin of Moscow Society of Naturalists, Biological Series 78(2):21-36.
Starobogatov, Ya.I. 1970. Fauna Mollyuskov i Zoogeograficheskoe Raionirovanie Kontinental'nykh Vodoemov Zemnogo Shara. Nauka, Leningrad. 371 pp.