Page last updated
1 April 2010
Mussel of the Month
The April 2010 Mussel of the Month is Bartlettia stefanensis. Bartlettia is a monotypic genus widespread in both the Amazon and Parana basins of South America.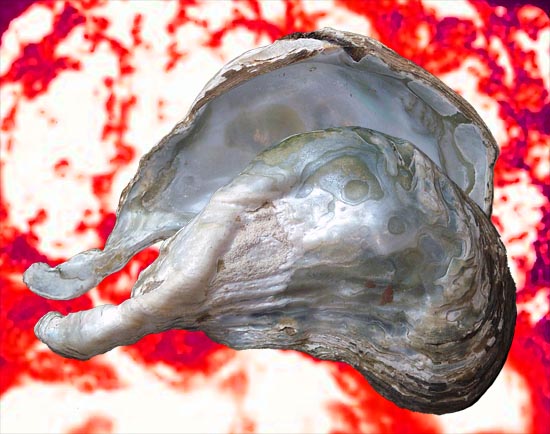 SMF 4302. Amazonas-Mündung Porte S. Coll. Moricand (paratype).
Bartlettia is a problematic taxon from a taxonomic perspective. During the first part of the 20th century, it was placed among the Etheriidae (Thiele, 1934; Pain & Woodward, 1961). But then it was argued that Bartlettia is merely a deformed mycetopodid (Parodiz & Bonetto, 1963). However, one could argue that those pre-cladistic hypotheses are not all that helpful. After all, while the consensus today might be that we want to recognize only monophyletic taxa, that was not always the goal.
So, what do modern, cladistic analyses have to say about the phylogenetic position of Bartlettia? Almost nothing. Bartlettia has yet to be included in a formal analysis (i.e., explicit matrix, alternative hypotheses being compared via some optimality criterion, etc.) of either morphology or DNA. Furthermore, the phylogenetic position/validity of the Etheriidae generally is even disputed (Bogan & Hoeh, 2001; Graf & Cummings, 2006, 2010; Hoeh et al. 2009).
Phylum Mollusca
Class Bivalvia
Subclass Palaeoheterodonta
Order Unionoida
Superfamily ETHERIOIDEA Deshayes, 1830
Family ETHERIIDAE Deshayes, 1830

Genus Bartlettia H. Adams, 1867

Species Bartlettia stefanensis (Moricand, 1856)
For more information about Bartlettia, check out:
Bogan, A. E. & W. R. Hoeh. 2000. On becoming cemented: evolutionary relationships among the genera in the freshwater bivalve family Etheriidae (Bivalvia: Unionoida) [in] E. M. Harper, J. D. Taylor & J. A. Crame, eds., The Evolutionary Biology of the Bivalvia. Geological Society, London, Special Publications, vol. 177. The Geological Society of London, London. pp. 159-168.
Graf, D. L. & K. S. Cummings. 2006. Palaeoheterodont diversity (Mollusca: Trigonioida + Unionoida): what we know and what we wish we knew about freshwater mussel evolution. Zoological Journal of the Linnean Society, 148: 343-394
Graf, D.L. & K.S. Cummings. 2010. Comments on the value of COI for family-level freshwater mussel systematics: a reply to Hoeh, Bogan, Heard & Chapman. Malacologia 52: 191-197.
Hoeh, W.R., A.E. Bogan, W.H. Heard & E.G. Chapman. 2009. Palaeoheterodont phylogeny, character evolution, diversity and phylogenetic classification: a reflection on methods of analysis. Malacologia 51: 307–317.
Mansur, M.C.D. & M.G.O. da Silva. 1990. Morfologia e microanatomia comparada de Bartlettia stefanensis (Moricand, 1856) e Anodontites tenebricosus (Lea, 1834) (Bivalvia: Unionoida: Muteloidea). Amazoniana 11: 147-166.
Pain, T. & F.R. Woodward. 1961. A revision of the freshwater mussels of the family Etheriidae. Journal of Conchology 25: 2-8.
Parodiz, J. J. & A. A. Bonetto. 1963. Taxonomy and zoogeographic relationships of the South American Naiades (Pelecypoda: Unionacea and Mutelacea). Malacologia 1: 179-214.
Thiele, J. 1934. Handbuch der systematischen Weichtierkunde. Teil 3: 779-1022.