Page last updated
1 June 2010
Mussel of the Month
The June 2010 Mussel of the Month is Arcidopsis footei. Arcidopsis is a monotypic genus endemic to the West Ghats of India.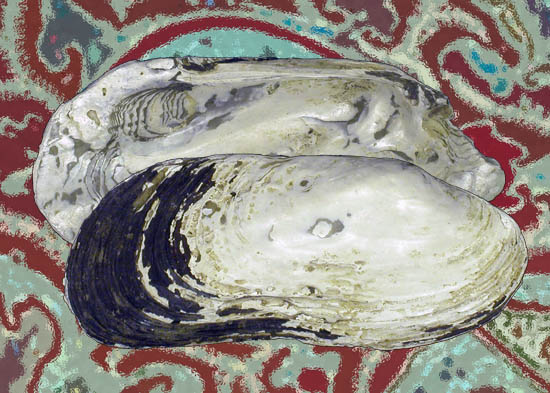 BMNH 88-12-4-1651 Kistna River near the "Gutparba Falls", India (type)
We have very little to say about Arcidopsis footei. A GoogleScolar search returns only our global checklist (Graf & Cummings, 2007). All that most have done before us is notice that this mussel exists, so we are going to leave it at that, too. There have been a couple recent works on Indian mussels that show some pictures (Subba Rao, 1989; Ramakrishna & Dey, 2007).
Phylum Mollusca
Class Bivalvia
Subclass Palaeoheterodonta
Order Unionoida
Superfamily UNIONOIDEA Rafinesque, 1820
Family UNIONIDAE s.s.

Genus Arcidopsis Simpson, 1900

Species Arcidopsis footei Theobald, 1876
To find what little information exists about Arcidopsis, check out:
Graf, D.L. & K.S. Cummings. 2007. Review of the systematics and global diversity of freshwater mussel species (Bivalvia: Unionoida). Journal of Molluscan Studies 73: 291-314.
Ramakrishna & A. Dey. 2007. Handbook on Indian Freshwater Molluscs. Zoological Survey of India, Kolkata 399 pp.
Subba Rao, N.V. 1989. Handbook freshwater molluscs of India. Zoological Survey of India, Calcutta. 289 pp.