Page last updated
31 August 2010
Mussel of the Month
The September 2010 Mussel of the Month is Hemistena lata. Hemistena is a monotypic genus endemic to the Ohio Basin in North America.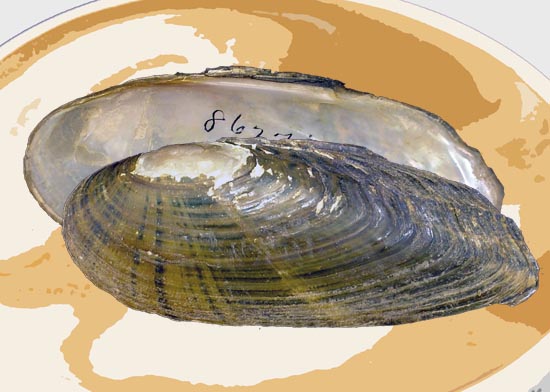 USNM 86271. Cincinnati, Ohio; T.G. Lea! (holotype of Unio oriens Lea, 1831)
Hemistena lata is federally endangered in the United States. The species is endemic to the Ohio Basin, including the Tennessee and Cumberland rivers. Williams et al. (2008) provided a nice summary of the current state of our knowledge of this rare species, and we don't have anything to add beyond that.
Phylum Mollusca
Class Bivalvia
Subclass Palaeoheterodonta
Order Unionoida
Superfamily UNIONOIDEA Rafinesque, 1820
Family UNIONIDAE s.s
Subfamily AMBLEMINAE Rafinesque, 1820
Tribe PLEUROBEMINI Hannibal, 1912

Genus Hemistena Rafinesque, 1820

Species Hemistena lata Rafinesque, 1820
To find about more about Hemistena, check out: