Page last updated
1 October 2010
Mussel of the Month
The October 2010 Mussel of the Month is Rectidens lingulatus. Recidens is a genus of two species endemic to the Sunda Islands of Indonesia.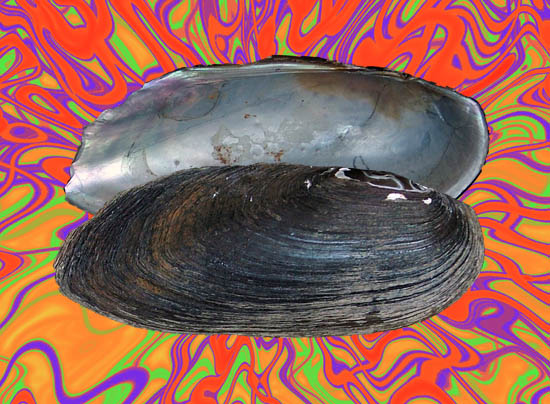 MNHN. Le Kopoeas, Semitau (Borneo) (figured syntype).
What to say about the freshwater mussel Rectidens?
It is another one of those taxa for which a google search returns a bunch of sources that merely notice its existence. We already knew that from the global reviews of Simpson (1900, 1914), Haas (1969) and Graf & Cummings (2007).
R. lingulatus is restricted to Borneo.
Phylum Mollusca
Class Bivalvia
Subclass Palaeoheterodonta
Order Unionoida
Superfamily UNIONOIDEA Rafinesque, 1820
Family UNIONIDAE s.s

Genus Rectidens Simpson, 1900

Species Rectidens lingulatus Drouët & Chaper, 1892
To find about more about Rectidens, check out:
Graf, D.L. & K.S. Cummings. 2007. Review of the systematics and global diversity of freshwater mussel species (Bivalvia: Unionoida). Journal of Molluscan Studies 73: 291-314.
Haas, F. 1969a. Superfamilia Unionacea. Das Tierreich (Berlin) 88: 663 pp.
Haas, F. 1969. Superfamily Unionacea. pp. N:411-470. in R.C. Moore (ed.) Treatise on Invertebrate Paleontology. Geological Society of America and the University of Kansas. Part N, Vol. 1 (of 3), Mollusca.
Simpson, C.T. 1900. Synopsis of the naiades, or pearly fresh-water mussels. Proceedings of the United States National Museum 22(1205): 501-1044.
Simpson, C.T. 1914. A descriptive catalogue of the naiades, or pearly fresh-water mussels. Parts I-III. Bryant Walker, Detroit, Michigan. 1540 pp.