Page last updated
30 November 2010
Mussel of the Month
The December 2010 Mussel of the Month is Truncilla truncata. Truncilla is a genus of four species occurring in North America from the Great Lakes south to Nuevo Leon, Mexico.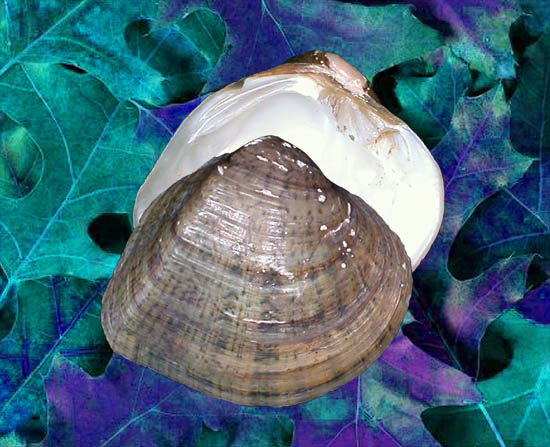 ANSP 20217. Falls of Ohio (type)
Truncilla is an interesting genus with which to close-out 2010 (or any year, for that matter). It is one of the many genera of lampsiline unionids, but has consistently been recovered among the basal members of that clade (with Obliquaria, Ptychobranchus, etc.; Graf & Cummings, 2006).
One of the more intriguing angles from which Truncilla has been studied is the way that males package their sperm. Waller & Lasee (1997) provided a nice description of the spermatozeugmata (or "sperm balls") of T. truncata. Spermatozeugmata are clusters of thousands of sperm, the heads of the individual spermatozoa imbedded in an acellular gelatinous matrix. This mechanism perhaps reduces the dilution of the sperm while they are in transit between the mantle cavities of the male and female (Cummings & Graf, 2009).
Spermatozeugmata are not unique to Truncilla, having been observed in a variety of genera (e.g., Edgar, 1965; Lynn, 1994; Ishibashi et al., 2000). There is a great image and video of anodontine spermatozeugmata on the Unio Gallery web site.
Phylum Mollusca
Class Bivalvia
Subclass Palaeoheterodonta
Order Unionoida
Superfamily UNIONOIDEA Rafinesque, 1820
Family UNIONIDAE s.s
Subfamily AMBLEMINAE Rafinesque, 1820
Tribe LAMPSILINI von Ihering, 1901

Genus Truncilla Rafinesque, 1819

Species Truncilla truncata (Rafinesque, 1820)
To find about more about Truncilla and spermatozeugmata, check out:
Cummings, K.S. D.L. Graf. 2009. Mollusca: Bivalvia. [in] J.H. Thorp & A.P. Covich (eds.). Ecology and Classification of North American Freshwater Invertebrates, 3rd edition. Academic Press-Elsevier, New York. pp. 309-384.
Edgar, A.L. 1965. Observation on the sperm of the pelecypod Anodontoides ferussacianus (Lea). Transactions of the American Microscopical Society 84: 228-230.
Graf, D.L. & K.S. Cummings. 2006. Palaeoheterodont Diversity (Mollusca: Trigonioida + Unionoida): what we know and what we wish we knew about freshwater mussel evolution. Zoological Journal of the Linnean Society 148: 343-394.
Ishibashi, R. A. Komaru & T. Kondo. 2000. Sperm sphere in unionid mussels (Bivalvia: Unionidae). Zoological Science 17: 947-950.
Lynn, J.W. 1994. The ultrastructure of the sperm and motile spermatozeugmata released from the freshwater mussel Anodonta grandis (Mollusca: Bivalvia: Unionidae). Canadian Journal of Zoology 72: 1452-1461.
Waller, D.L. & B.A. Lasee. 1997. External morphology of spermatozoa and spermatozeugmata of the freshwater mussel Truncilla truncata (Mollusca: Bivalvia: Unionidae). American Midland Naturalist 138: 220-223.