Page last updated
1 February 2011
Mussel of the Month
The February 2011 Mussel of the Month is Uniomerus columbensis. Uniomerus is a genus of four species that is widespread in the Interior and eastern coastal basins of North America.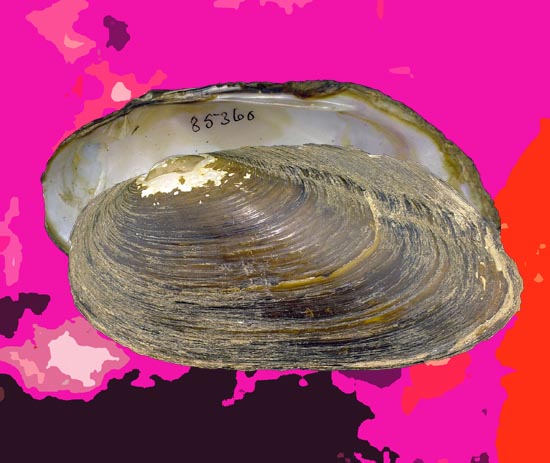 USNM 85360. Creeks near Columbus, GA. Elliott! (lectotype).
Like so many freshwater mussel genera, one of the claims to fame of Uniomerus is the extent to which the taxonomy is unsettled and purely utilitarian. For example, despite the amount of research on southeastern USA freshwater mussels, Uniomerus columbensis was elevated from synonymy in 2008 to cover the species found in the Apalachicola system (Williams et al., 2008).
Another interesting feature of (at least some) species of Uniomerus is their ability to withstand extreme dessication. According to Holland (1991), "U. tetralasmus were extremely tolerant of prolonged emersion, with a single individual surviving 699 days at 15° C and 100% RH."
This all contributes to our growing conviction that there is much fruitful systematic research waiting to occur in North America in general and the Gulf coastal basins in particular.
Phylum Mollusca
Class Bivalvia
Subclass Palaeoheterodonta
Order Unionoida
Superfamily UNIONOIDEA Rafinesque, 1820
Family UNIONIDAE s.s.
Subfamily AMBLEMINAE Rafinesque, 1820
Tribe Pleurobemini Hannibal, 1912

Genus Uniomerus Conrad, 1853

Species Uniomerus columbensis (Lea, 1857)
To find about more about Uniomerus, check out:
Holland, D.F. 1991. Prolonged emersion tolerance in freshwater mussels (Bivalvia: Unionidae): Interspecific comparison of behavioral strategies and water loss rates. M.S. Thesis. University of Texas at Arlington. 130 pp.
Williams, J.D., A.E. Bogan, J.T. Garner. 2008. Freshwater Mussels of Alabama and the Mobile Basin in Georgia, Mississippi and Tennessee. University of Alabama Press, Tuscaloosa. 908 pp.