Page last updated
28 February 2011
Mussel of the Month
The March 2011 Mussel of the Month is Sinanodonta woodiana. The genus Sinaodonta is native to eastern Asia, but one of the two species has been widely introduced.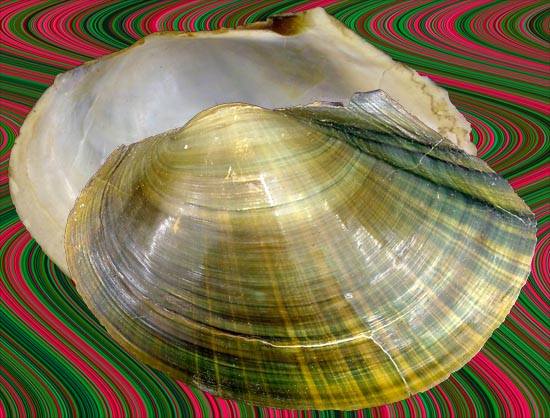 USNM 472440. Fou-tcheou, China (paratype Anodon rosea Heude, 1881?).
Over the last thirty years, there has been significant research on the ecological impacts of exotic bivalves (reviewed in Cummings & Graf, 2009 for North America). This concern has been focused on venerid bivalves of the families Dreissenidae and Corbiculidae. However, freshwater mussels can be invasive as well — for example, Sinanodonta woodiana.
Whereas the stereotype of most freshwater mussels is that their ranges are shrinking, S. woodiana is expanding beyond its already broad distribution in temperate and tropical eastern Asia. This mussel was introduced widely as part of the fish trade, carried along during their parasitic phase. Watters (1997) not only documents several primary introductions — e.g., from Siberia (Amur) to Hungary, from China (Yangtze) to Romania, and from Taiwan to Indonesia, Costa Rica, and Hispanola — but also subsequent dispersal from secondary sources. For example, infected Hungarian fishes were imported to France. Mienis (2008) has continued to document spread of Sinanodonta woodiana.
The primary ichthyo-culprits are various species of carp (common, grass, silver, etc.), tilapias, and mosquitofish (Watters, 1997). Some of these exotic carp species are widespread in the United States (and annoying), and given the hardiness of this particular mussel, it is possible that it will spread widely here as well. It is unclear how annoying it will be.
As of 2010, Sinanodonta woodiana was reported in New Jersey. It begins...
Phylum Mollusca
Class Bivalvia
Subclass Palaeoheterodonta
Order Unionoida
Superfamily UNIONOIDEA Rafinesque, 1820
Family UNIONIDAE s.s.
Subfamily UNIONINAE s.s.
Tribe ANODONTINI Rafinesque, 1820

Genus Sinanodonta Modell, 1945

Species Sinanodonta woodiana (Lea, 1834)
To find about more about Sinanodonta and invasive bivalves, check out:
Benson, A. J. 2011. Sinanodonta woodiana. USGS Nonindigenous Aquatic Species Database, Gainesville, FL. RevisionDate: 7 October 2010. http://nas.er.usgs.gov/queries/FactSheet.aspx?speciesID=2824.
Mienis, H.K. 2008. Additional information concerning the conquest of Europe by the invasive Chinese Pond Mussel Sinanodonta woodiana, 18. News from Austria, Greece, the Netherlands, Poland and Slovakia. Ellipsaria 10(2): 9.
Watters, G.T. 1997. A synthesis and review of the expanding range of the Asian freshwater mussel Anodonta woodiana (Lea, 1834) (Bivalvia: Unionidae). Veliger 40: 152-156.