Page last updated
1 May 2011
Mussel of the Month
The May 2011 Mussel of the Month is Obovaria unicolor. Obovaria is a genus of 6 species found in eastern North America.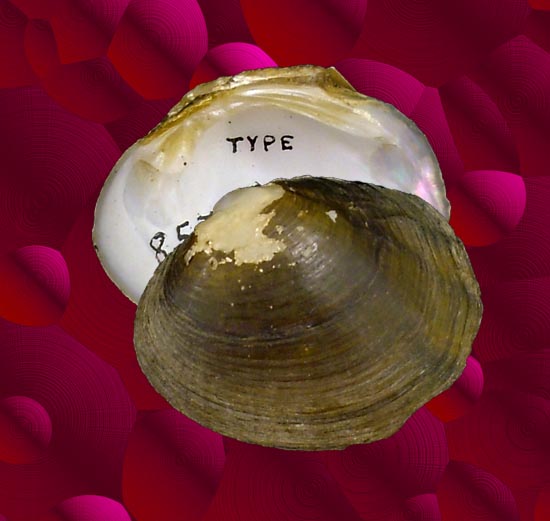 USNM 85750. Tuscaloosa, Alabama (type).
A few interesting things could be said about Obovaria unicolor, the freshwater mussel known by those that tolerate common names as the Alabama hickorynut. For example, it is endemic to the Mobile Basin, and it is of conservation concern in the state of Alabama.
But what drew us to choose this species as the MotM is the fact that it was originally described from Tuscaloosa, Alabama — home of the University of Alabama. Tuscaloosa is in our thoughts right now, and it is worth noting the early malacological contributions of the Druid City. Isaac Lea, renowned Philadelphia freshwater mussel describer, had a few contacts in Alabama with whom he traded material. The particular specimen shown here was collected in Tuscaloosa and sent north by a Dr. Budd.
Phylum Mollusca
Class Bivalvia
Subclass Palaeoheterodonta
Order Unionoida
Superfamily UNIONOIDEA Rafinesque, 1820
Family UNIONIDAE s.s.
Subfamily AMBLEMINAE Rafinesque, 1820
Tribe LAMPSILINI von Ihering, 1901
Genus Obovaria Rafinesque, 1819

Species Obovaria unicolor (Lea, 1845)
To find about more about Obovaria and other freshwater mussels described from Tuscaloosa, check out:
Lea, I. 1848. Description of new fresh water and land shells. Transactions of the American Philosophical Society 10:67-101.
Williams, J.D., A.E. Bogan, J.T. Garner. 2008. Freshwater Mussels of Alabama and the Mobile Basin in Georgia, Mississippi and Tennessee. University of Alabama Press, Tuscaloosa. 908 pp.