Page last updated
2 July 2011
Mussel of the Month
The July 2011 Mussel of the Month is Fossula fossiculifera. Fossula is a monotypic genus from tropical South America.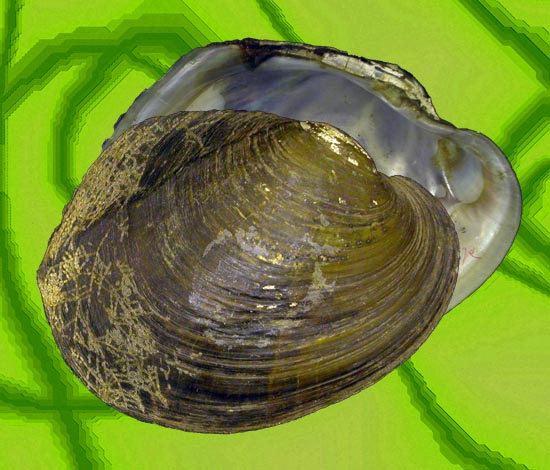 BMNH 1854.9.4.1. Rio Parana, Prov. Corrientes, Argentina. d'Orbigny Collection (type).
Fossula fossiculifera is one of those Neotropical mycetopodids that is emblematic of the lack of phylogenetic data available for tropical freshwater mussels. The family Mycetopodidae (as it is currently understood) is endemic to South America and sister to the Iridinidae of Africa (as far as we know). These caveats are necessary because no really robust test of mycetopodid relationships has ever been published. I few taxa have been analyzed here and there (reviewed in Graf & Cummings, 2007), but none of them are F. fossiculifera.
So, we are left with a dated traditional arrangement that was concocted in the 1940s by Modell (1942) and Lange de Morretes (1949). This classification, dividing the Mycetopodidae into 4 subfamilies, was endorsed by Parodiz & Bonetto (1963) and is maintained by Bieler et al. (2010). The four subfamilies — Mycetopodinae, Anodontitinae, Leilinae and Monocondylaeinae — are for the most part restricted to only one or two genera each. However, the Monocondylaeinae is has six genera: Monocondylaea, Tamsiella, Haasica, Iheringella, Diplodontites and Fossula. However, this is all a house of cards. We look forward to seeing it knocked down and replaced with a system with more explanatory power.
Phylum Mollusca
Class Bivalvia
Subclass Palaeoheterodonta
Order Unionoida
Superfamily ETHERIOIDEA Deshayes, 1830
Family MYCETOPODIDAE Gray, 1840
Subfamily MONOCONDYLAEINAE Modell, 1942

Genus Fossula Lea, 1870

Species Fossula fossiculifera (d'Orbigny, 1835)
To find out more about Fossula, check out:
Bieler, R., J.G. Carter & E.V. Coan. 2010. Classification of bivalve families pp. 113-133. In: P. Bouchet & J.-P. Rocroi (eds.). Nomenclator of Bivalve Families. Malacologia 52: 1-184.
Graf, D.L. & K.S. Cummings. 2007. Review of the systematics and global diversity of freshwater mussel species (Bivalvia: Unionoida). Journal of Molluscan Studies 73: 291-314.
Lange de Morretes, F. 1949. Ensaio de catálogo dos moluscos do Brasil. Arquivos do Museu Paranaense Curitiba 7(1): 5-216.
Modell, H. 1942. Das natürliche system der najaden. Archiv für Molluskenkunde 74(5-6): 161-191.
Parodiz, J.J. & A.A. Bonetto. 1963. Taxonomy and zoogeographic relationships of the South American naiades (Pelecypoda: Unionacea and Mutelacea). Malacologia 1: 179-213.