Page last updated
7 October 2011
Mussel of the Month
The October 2011 Mussel of the Month is Lampsilis virescens. Lampsilis is a genus of 24 species in eastern North America.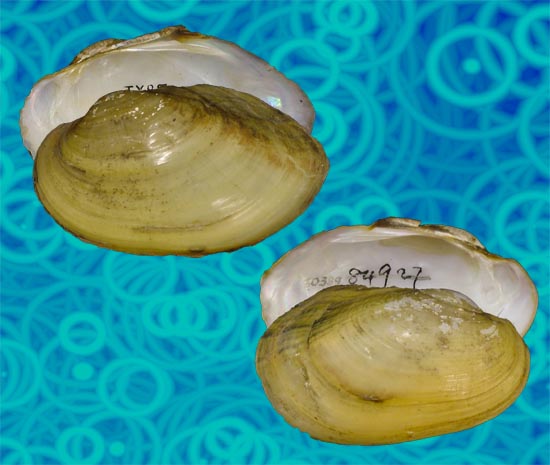 USNM 84927 (type) and USNM 30389 (paratype). Tennessee River, Tuscumbia, Alabama.
It is well known that freshwater mussels in general are imperiled in North America and elsewhere. the USA, the US Fish & Wildlife Service reports 71 species as endangered. One of these is Lampsilis virescens, known to those that can't read italics as the Alabama Lampmussel. The species has always been restricted to the interior basin in Alabama and Tennessee (Williams et al., 2008), but now it is only known from two tributaries of the Tennessee River.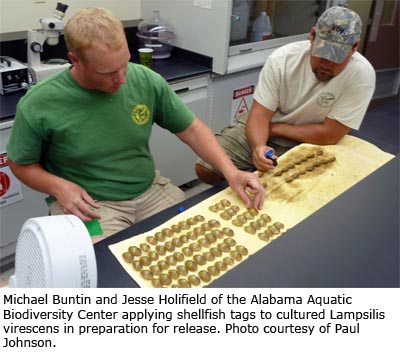 Of course, we have already covered Lampsilis in our monthly exploration of unionoid diversity, but this is a special month for the genus. Our friends at the Alabama Aquatic Biodiversity Center have been raising L. virescens (among other state and federally endangered species) in captivity, and they are set to release a batch of vigorous juveniles into the wild. The hope is that stocking these freshwater mussels will replenish dwindling populations. Click here to see a pdf of their press release. We wish them — the mussels and the Alabama Aquatic Biodiversity Center — the best of luck!
Click here to see the latest news on the release of Lampsilis virescens.
Phylum Mollusca
Class Bivalvia
Subclass Palaeoheterodonta
Order Unionoida
Family UNIONIDAE Rafinesque, 1820
Subfamily AMBLEMINAE Rafinesque, 1820
Tribe Lampsilini von Ihering, 1901

Genus Lampsilis Rafinesque, 1820
Species Lampsilis virescens Lea, 1858
To find out more about Lampsilis virescens and the Alabama Aquatic Biodiversity Center, check out:
Williams, J.D., A.E. Bogan & J.T. Garner. 2008. Freshwater Mussels of Alabama and the Mobile Basin in Georgia, Mississippi and Tennessee. University of Alabama Press, Tuscaloosa. 908 pp.
Official Web Site of the Alabama Department of Conservation and Natural Resources.