Page last updated
31 October 2011
Mussel of the Month
The November 2011 Mussel of the Month is Oxynaia jourdyi. Oxynaia is a genus of five species ranging from Indochina west to Burma.
[This species of Oxynaia has been moved to Nodularia and is now known as Nodularia jourdyi. However, most of this post is about Oxynaia pugio, which now goes by Indochinella pugio. — DLG, 8 August 2018]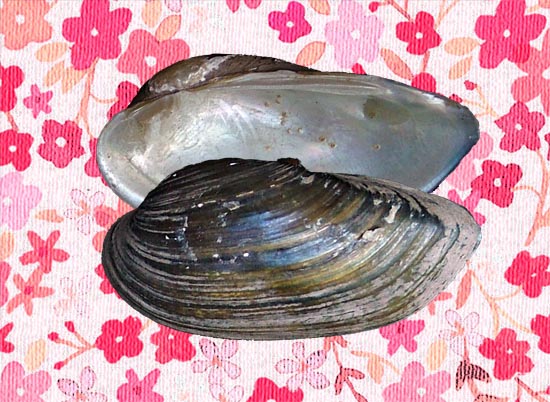 MNHN. Bac Hat étang de la riviere Claire (syntype).
Oxynaia is a genus of freshwater mussel that recently came on to our radar. We had received specimens of O. pugio that the folks at the California Academy of Natural Sciences collected in Burma, and we applied those in a phylogenetic analysis of tropical mussel lineages. That work has recently been published (Whelan et al., 2011), and the November Mussel of the Month is a good opportunity to discuss those results.
For the last long while, we had regarded the genus Oxynaia as part of a large poorly understood assemblage of incertae sedis Indotropical mussels (Graf & Cummings, 2006). Click here to see the classification that we used to apply on this web site. The reason those taxa were treated as of unknown phylogenetic position was simply because most genera had not been analyzed in any phylogenetic study. The available taxonomy dated from Modell (1942, 1964) and Starobogatov (1970). Those studies pre-dated widespread application of cladistic methods and were irreconcilably divergent in their hypothesized classifications. All we could say was that those mussels belong to the Unionidae.
Our recent analysis (Whelan et al., 2011) had much broader tropical taxon sampling than any previous study, and as a result we discovered a heretofore neglected clade, the Parreysiinae. The Parreysiinae includes not only Indian genera like Parreysia, but also African genera like Coelatura and genera like Oxynaia that extend east through Indochina. So far, we have only used molecular characters to resolve the Parreysiinae, but we are currently working to include morphological characters in a larger study of tropical freshwater mussels of the family Unionidae.
In the meantime, we have updated the preferred classification on this site.
Phylum Mollusca
Class Bivalvia
Subclass Palaeoheterodonta
Order Unionoida
Family UNIONIDAE Rafinesque, 1820
Subfamily PARREYSIINAE Henderson, 1935
Tribe OXYNAIINI Starobogatov, 1970

Genus Oxynaia Haas, 1913
Species Oxynaia jourdyi Morlet, 1886
To find out more about Oxynaia and the classification of the Parreysiinae, check out:
Graf, D.L. & K.S. Cummings. 2006. Palaeoheterodont Diversity (Mollusca: Trigonioida + Unionoida): what we know and what we wish we knew about freshwater mussel evolution. Zoological Journal of the Linnean Society 148: 343-394.
Modell, H. 1942. Das natürliche system der najaden. Archiv für Molluskenkunde 74(5-6): 161-191.
Modell, H. 1964. Das natürliche system der najaden. 3. Archiv für Molluskenkunde 93: 71-126.
Starobogatov, Ya.I. 1970. Fauna of molluscs and zoogeographic division of continental waterbodies of the globe. Nauka, Leningrad. 372 pp.
Whelan, N.V., A.J. Geneva & D.L. Graf. 2011. Molecular phylogenetic analysis of tropical freshwater mussels (Mollusca: Bivalvia: Unionoida) resolves the position of Coelatura and supports a monophyletic Unionidae. Molecular Phylogenetics and Evolution 61: 504-514.