Page last updated
2 October 2012
Mussel of the Month
The October 2012 Mussel of the Month is Epioblasma capsaeformis. Epioblasma is a genus of 22 species endemic to eastern North America.

USNM 84939. Tennesee (types from the Lea Collection).
A few years ago, we selected Epioblasma as Mussel of the Month just because sexually dimorphic mussels like these are so cool. Since we last checked in with this genus, some new taxa have been described (Jones & Neves, 2010). And, E. capsaeformis has recently been in the news, thanks to the re-stocking efforts of the Alabama Aquatic Biodiversity Center. Friend-of-the-MUSSELp Paul Johnson submitted the following report on 27 September 2012: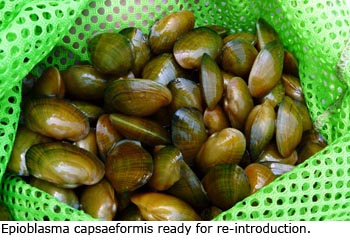 "Thanks to folks at the Freshwater Mollusk Conservation Center at Virginia Tech (VPI) in Blacksburg, VA for the donation of 1,007 Epioblasma capsaeformis (Oyster mussel). These 18-month, post-transformation animals were reintroduced into the Paint Rock River (Jackson County), yesterday afternoon.

"Culture efforts for the Oyster Mussel went exceptionally well last year, and VPI had more than 17,000 animals in absolutely beautiful condition. They had produced more than enough to support recovery activities in Tennessee and Virginia. The remainder were donated to ADCNR in support of reintroduction activities in Alabama. The brood stock for the effort came from 20 Clinch River females (Tennessee Broodstock - TWRA). The Oyster Mussel is federally endangered and the Clinch River retains the last robust population. Historically it occurred throughout the upper-middle Tennessee River system (to Mussel Shoals).

"The Oyster Mussel was last collected in the Paint Rock River basin by David H. Stansbery (Ohio State University Museum – 39533) on October 2, 1976 from the Larkin Fork.

"This was the 2nd reintroduction effort for the Paint Rock this year. In July, the AABC released federally endangered Cumberland Bean (Villosa trabalis) to the Paint Rock River (photo). Cumberland Bean was cultured by the AABC from brood stock donated by TWRA. The Cumberland Bean occurs in a short stretch of the Hiwassee River in TN, and is the last place the species occurs in any numbers in the Tennessee River basin (a few Cumberland River basin sites remain). A total of 269 individuals were released at the same locality on the Paint Rock. These were produced in 18 months of culture efforts from glochidia obtained from 5 gravid females."
Congratulations to Paul, the AABC, and the folks at VPI for a job well done!

Phylum Mollusca
Class Bivalvia
Subclass Palaeoheterodonta
Order Unionoida
Family UNIONIDAE Rafinesque, 1820
Subfamily AMBLEMINAE Rafinesque, 1820
Tribe LAMPSILINI von Ihering, 1901

Genus Epioblasma Rafinesque, 1831
Species Epioblasma capsaeformis (Lea, 1834)
To find out more about Epioblasma, check out:
Jones, J.W. & R.J. Neves. 2010. Descriptions of a new species and a new subspecies of freshwater mussels, Epioblasma ahlstedti and Epioblasma florentina aureola (Bivalvia: Unionidae), in the Tennessee River drainage, USA. Nautilus 124: 77-92.
Our previous Mussel of the Month page about Epioblasma flexuosa.
Chris Barnhart's Unio Gallery -- Epioblasma - "Fish Snappers" page.