Page last updated
3 March 2022
Mussel of the Month
The May 2013 Mussel of the Month is Leptodea fragilis. Leptodea is a genus of three species in eastern North America.
[Since Smith et al. (2020), Leptodea has been sunk into Potamilus. — DLG, 3 March 2022.]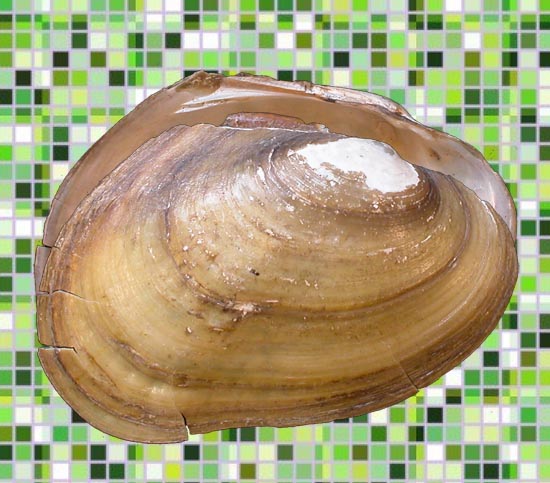 UMMZ 209186. Lake Butte de Morts, Wisc. F.C. Baker! August 1920.
(type of L. fragilis lacustris F.C. Baker)
Leptodea fragilis has been on our minds recently, and so we have decided to finally honor it as a Mussel of the Month.
We were recently reminded that Leptodea fragilis is a weird outlier when it comes to fecundity and glochidium size. Compared to most other amblemines, L. fragilis produces many, many tiny glochidia. This species (and many others) are discussed in an excellent new review paper by Wendell Haag (2013).
Leptodea fragilis was also featured in work done by students of the Graf Lab at the University of Wisconsin-Stevens Point. Two posters were presented at the College of Letters and Science Undergraduate Research Symposium: "Curation of the Daniel J. Bereza Collection of freshwater mollusks at the Smithsonian National Museum of Natural History: Phase I" by Caitlin Luebke, and "A preliminary study of the biogeography of freshwater mussels (Bivalvia: Unionidae) in Wisconsin, USA" by Ryan Pappas. Leptodea fragilis came up as one of those odd mussel species that straddles the Interior-Great Lakes divide in the Wisconsin and Fox rivers. The specimen figured here was collected by F.C. Baker (1928) on the Lake Michigan side. There is an interesting post-glacial biogeographical story that needs to be explored here!
Phylum Mollusca
Class Bivalvia
Subclass Palaeoheterodonta
Order Unionoida
Family UNIONIDAE Rafinesque, 1820
Subfamily AMBLEMINAE Rafinesque, 1820
Tribe LAMPSILINI von Ihering, 1901

Genus Leptodea Rafinesque, 1820
Species Leptodea fragilis (Rafinesque, 1820)
To find out more about Leptodea, check out:
Haag, W.R. 2013. The role of fecundity and reproductive effort in defining life-history strategies of North American freshwater mussels. Biological Reviews, early online access.
Baker, F.C. 1928. The fresh water Mollusca of Wisconsin. Part II. Pelecypoda. Bulletin of the Wisconsin Geological and Natural History Survey 70(2): vi-495 + 76 plates.