Page last updated
2 October 2013
Mussel of the Month
The October 2013 Mussel of the Month is Ptychorhynchus pfisteri. Ptychorhynchus is a genus of three species found in China and southeastern Asia.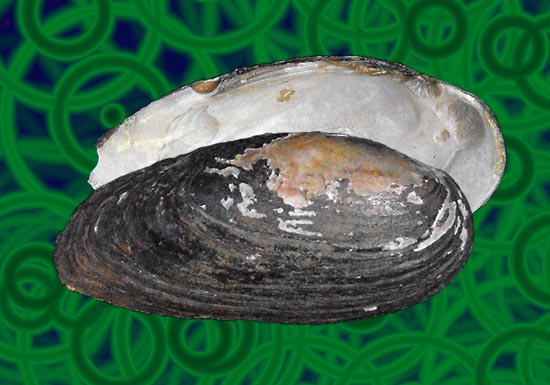 MNHN. China. (type of U. pfisteri var. insperatus)
It has been a busy week, and weeks like this are when we roll out a Mussel of the Month, like Ptychorhynchus, about which we know absolutely nothing. Less to say, so there is less to write. Google Ptychorhynchus and see what you find: mostly this web site and the suggestion that you might mean "Pachyrhynchus."
Ptychorhynchus pfisteri does have a Red List page. That's something. It is ranked as Near Threatened.
Our classification for this species is a guess. The Russian Comparatory School (e.g., Bogatov et al., 2003) wants to classify this mussel in the Margaritiferidae.
Phylum Mollusca
Class Bivalvia
Subclass Palaeoheterodonta
Order Unionoida
Family UNIONIDAE Rafinesque, 1820
Subfamily GONIDEINAE Ortmann, 1916

Genus Ptychorhynchus Simpson, 1900
Species Ptychorhynchus pfisteri (Heude, 1874)
To find out more about Ptychorhynchus, check out: