Page last updated
5 March 2014
Mussel of the Month
The March 2014 Mussel of the Month is Cuneopsis celtiformis. Cuneopsis is a genus of six species occurring from the Yellow River south to northern Vietnam.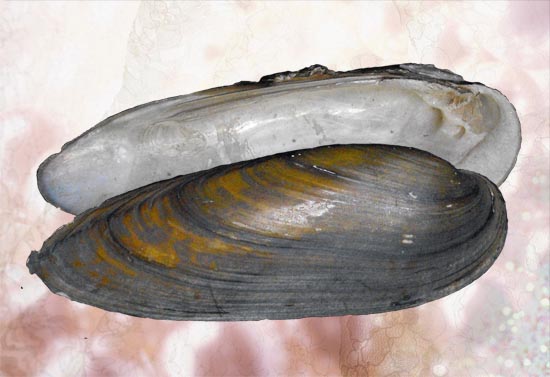 MNHN. Riviere de Fou-Tchou (Kiang Si) [China].
We chose Cuneopsis as this month's MotM in honor of the recently published book on Chinese freshwater mussels by Zhuang & Jing (2013). The last few weeks have been spent updating our local version of the MUSSEL Project Database to reflect this new taxonomic information, including 5 species new to science. It was interesting to learn how many North American freshwater mussel species have been introduced to China by pearl farmers. Those new data will make it to the online version of the MUSSELpdb the next time we update the data (probably early in summer 2014).
The taxonomic information in that book was surprisingly easy to accommodate into our database since, for the most part, the MUSSELpdb was apparently used as the basis for synonymies. Moreover, many of the figures are those featured on this web site. In truth, we would have expected explicit attributions when our pics or taxonomic data were used. Even better, it would have been appropriate to cite our relevant publications (Graf, 2007; Graf & Cummings, 2007, etc.) that form the backbone of this web site. Apparently, rather than being a resource to facilitate taxonomic research, the MUSSELpdb is now the source! We are glad to know that our research is being put to good use. We are also pleased to have our taxonomy "truthed" by local workers.
Phylum Mollusca
Class Bivalvia
Subclass Palaeoheterodonta
Order Unionoida
Family UNIONIDAE Rafinesque, 1820
Subfamily UNIONINAE s.s.
Tribe UNIONINI s.s.

Genus Cuneopsis Simpson, 1900
Species Cuneopsis celtiformis (Heude, 1874)
To find out more about Cuneopsis and Chinese freshwater mussels, check out:
Graf, D.L. 2007. Palearctic freshwater mussel (Mollusca: Bivalvia: Unionoida) diversity and the Comparatory Method as a species concept. Proceedings of the Academy of Natural Sciences of Philadelphia 156: 71-88.
Graf, D.L. & K.S. Cummings. 2007. Review of the systematics and global diversity of freshwater mussel species (Bivalvia: Unionoida). Journal of Molluscan Studies 73: 291-314.
Liu, Y.-Y., Y.-X. Wang & W.-Z. Zhang. 1979. Freshwater Mollusks. Economic Fauna of China. Science Press, Beijing, Peoples Republic of China. 124 pp.
Prozorova, L.A., E.M. Sayenko, V.V. Bogatov, M. Wu & Y.-Y. Liu. 2005. [Bivalves of the Yangtze River drainage]. Byulleten' Dal'nevostochnogo Malakologicheskogo Obshchestva 9: 46-58.
He, J. & Zhuang, Z. 2013. The Freshwater Bivalves of China. ConchBooks, Harxheim, Germany. 198 pp.