Page last updated
5 May 2014
Mussel of the Month
The May 2014 Mussel of the Month is Tihkia sp. Tihkia is a fossil genus of three known species from the Triassic.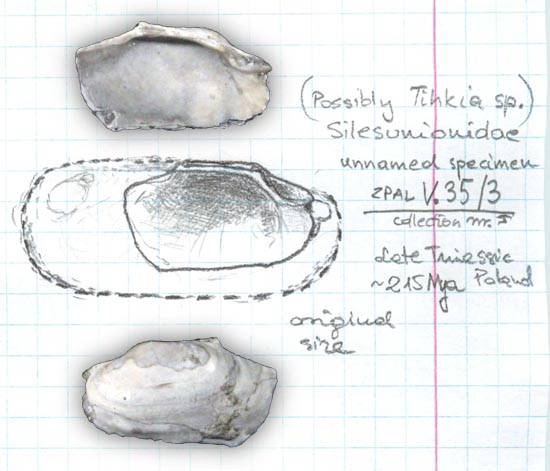 ZPAL V.35/3 (drawing by Dr. Aleksandra Skawina).
This month's mussel is a Triassic fossil, possibly of the genus Tihkia. The choice was inspired by the recent visit of Dr. Aleksandra Skawina of the University of Warsaw to UWSP. From 14-18 April 2014, Dr. Skawina was funded by a grant from the EU to visit a "modern university" in the USA, and she chose to be hosted by DLG at the University of Wisconsin-Stevens Point. During her stay, Dr. Skawina attended various lectures and labs in the Biology Department, but she also found time to explore the mussel collection in the Graf Lab.
Dr. Skawina presented a well-received seminar on her research entitled "The Origin and Early Evolution of freshwater Mussels (Mollusca: Bivalvia: Unionoida), and Shell Biomineralization in Recent Unio." The lecture covered both her graduate work on Triassic freshwater bivalves (like Tihkia) and more recent research on the physiology of shell formation in modern mussels. It was inspring to have the opportunity to work with Dr. Aleksandra Skawina, and we look forward to continuing our collaboration with her.
Phylum Mollusca
Class Bivalvia
Subclass Palaeoheterodonta
Order Unionoida
Suborder Silesunionina
Family SILESUNIONIDAE Skawina & Dzik, 2011

Genus Tihkia Sahni & Tewari, 1958
To find out more about Tihkia and Triassic freshwater mussels, check out:
Skawina, A. 2013. Population dynamics and taphonomy of the Late Triassic (Carnian) freshwater bivalves from Krasiejów (Poland). Palaeogeography, Palaeoclimatology, Palaeoecology 379-380: 68-80.
Skawina, A. & J. Dzik. 2011. Umbonal musculature and relationships of the Lake Triassic filibranch unionoid bivalves. Zoological Journal of the Linnean Society 163: 863-883.